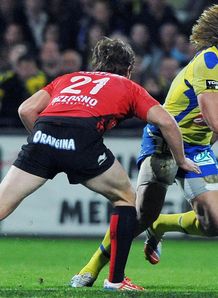 Having swapped Clermont for Toulon at the age of 35, Gerhard Vosloo has revealed the time was right to leave les Jaunards.
The South African has spent the last eight years in France with Castres, Brive, Clermont and now Toulon.
Citing the departure of influential head coach Vern Cotter, with the New Zealander now in charge of Scotland, Vosloo admitted it was time to move on.
"With Vern Cotter leaving, it was the end of a cycle at Clermont. I needed a new challenge and to keep playing at a high level. And given Toulon are the best club in Europe and France..." Vosloo said to Rugbyrama with a smile.
Vosloo actually passed both the Top 14 and Heineken Cup trophies at Toulon's training ground in Berg, but made sure not to touch them.
"I didn't touch them because I didn't win them. Hopefully I'll have a picture with them by the end this season," added Vosloo.
"It's a great team. They've won everything, but I have no doubt about their mental state. They want to win again.
"The season is going to be hard and we'll come across good teams, especially as Toulon are now the side to beat."