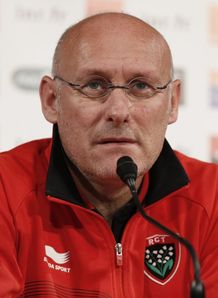 Related links
Also see
Toulon director of rugby Bernard Laporte has hit out at France coach Philippe Saint-André's complaints over foreign players in Top 14.
Citing the recruitment of players from outside France when Saint-André was in charge of Toulon between 2009-2011, Laporte added that the France coach showed little concern about the development of young French players.
Saint-André then succeeded Marc Lièvremont as the national coach of Les Bleus following the 2011 Rugby World Cup, with Laporte openly questioning what France have actually achieved in that time compared to another side that struggled in the tournament, England.
"When Philippe Saint-André was at Toulon, he recruited a dozen foreigners," Laporte told Midi Olympique.
"And at that moment, he did not care for the France team! Now when he says that foreigners are why France are losing, I say stop. Where are we going?
"I've always said the France team must be the priority. Reading our current results makes me scream... we have become the Spain of rugby!
"There is something that concerns me. In 2011, at the end of a disastrous World Cup, the English were in the same position as us, but they were able to ask the right questions. Suddenly, their national team is playing well.
"They are not the best nation in the world, but it is consistent progress when we have not advanced one metre."
Focusing on matters closer to Toulon ahead of the new season, Laporte added no decision has been made on who will take Jonny Wilkinson's number ten shirt after his retirement.
"There will be no number one," added Laporte.
"Frédéric Michalak will compete with Matt Giteau and James O'Connor, who could possibly help.
"Initially, there is no incumbent. The number one will be decided at the end during the big games."