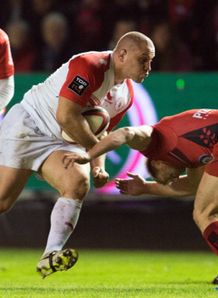 France prop Fabien Barcella spoke of the "end of an era" as he swapped relegated Biarritz for champions of Europe, Toulon.
Barcella had spent six years with the Basque side, a period of highs and lows, with silverware followed by the ultimate failure with last season's demotion to the Pro D2.
And the 30-year-old admitted that, for his time with the club, the end of the road had been reached.
"It was hard to leave," Barcella conceded to RugbyRama.
"But we had a disastrous season. We turned over a new page with Damien Traille leaving and Dimitri Yachvili retiring. It was the end of an era. I want to see something else."
The hulking front-row has 20 French Tests to his name, and has high hopes of adding to them as the World Cup looms on the horizon. In Toulon, he saw a "huge opportunity" to better himself, with the club's phenomenal training facilities and unique blend of all-star talent proving an irresistible lure.
"It will take time to adapt and I must work hard because there is a change of level," admitted Barcella.
"The competition is strong. In my position, there are three top players plus Andrew Sheridan if he returns. But I look forward to getting to know the group and representing Toulon.
"The climate is not the same as Biarritz. I saw the club facilities with the training centre, the weights room - there is everything on-site; it is awesome."