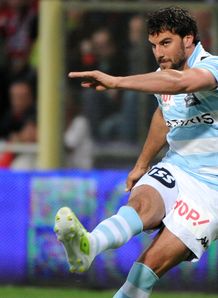 Related links
Also see
New Grenoble fly-half Jonathan Wisniewski is enjoying a fresh start with his new club after joining from Top 14 rivals Racing Métro.
Wisniewski played second fiddle to Jonathan Sexton for much of last season, leaving Paris after seven years with the club.
Discussing his bad luck last season but enjoyment at helping the Racing U19 side win a national title, the 28-year-old insisted that he has no regrets.
"I was injured for five months, then when I came back the team were winning," Wisniewski told Rugbyrama.
"When you miss the boat sometimes it's tricky. If there was an injury then I could have maybe rejoined the group, but it wasn't the case. I stayed away a bit, I worked on my side. Unfortunately in some ways but not in others, the lack of playing time has allowed me to prepare myself for this season.
"I decided to drop down to help with the youth team, simply to enjoy playing and training.
"There was less at stake and less intensity but it allowed me to be on the ground and prepare for the games at the weekend. Additionally, we were U19 champions of France, it was nice. I'm glad Racing won a title. Hopefully I have left a good impression during my seven years."
Now bedding in at Grenoble, Wisniewski added there was no desire for revenge over Racing but simply an objective to produce his best rugby for his new club in new surroundings.
"There is no revenge, just a big appetite to take enjoy myself on the field," says Wisniewski.
"I've come to Grenoble with a great desire to integrate myself as quickly and effectively as possible with this group and this club.
"It's going well, it's hard work, the atmosphere is good. I find myself in a very nice city. There is a context to put all the players in the best frame. I've also found the club to be well structured, organised, with a wide athletic staff with skills in each area. I'm really impressed.
"Now I understand why for several seasons the club has been well structured, has stabilised and grown every year. It's not a coincidence."