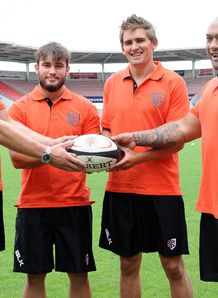 Former France loose forward Imanol Harinordoquy says his move from Biarritz to Toulouse has left him feeling like a schoolboy.
At 34, the veteran back rower in nearing the end of a glittering career but still has plenty to offer the four-time European champions, whom he joins alongside fellow new recruits Toby Flood, Alexis Pallison, Neemia Tialata and Corey Flynn.
The 77-cap international spent 11 seasons with Biarritz, but his last two years were ruined by a rotten run of injuries and the Basque club's woeful form which saw them relegated at the end of the Top 14 season.
Hence the Bayonne-born Harinordoquy's move to Toulouse, who also failed to fire on all cylinders last term, missing the domestic semi-finals to the first time in two decades.
"To find myself here is strange, but in the good sense of the word," he said.
"I wanted a change, to find a last big challenge, a real test for me, to arrive a little bit like a youngster who has changed school: to meet new mates, a new teacher, a new school; to have my eyes opened wide.
"It might seem a little strange because I've got 15 years of rugby behind me but it's that which I craved."
But new "school mates" aside, Harinordoquy said his choice to move to Toulouse was driven by a motivation to go after trophies.
"It's one of the reasons I wanted to join Toulouse," he admitted.
"To come into a team that is ruthlessly ambitious and doesn't want to be happy with the season it's just put together.
"I really like that type of spirit. In this club there's everything you need to go hunting for a title.
"It's maybe more complicated today with the teams that can do it, but I know it's possible."
Harinordoquy has some form when it comes to winning titles, having won the Top 14 twice (2005, 2006), and then featuring for France in five Six Nations victories (2002, 2004, 2006, 2007, 2010), which included three Grand Slams (2002, 2004, 2010).
Also in the trophy cabinet is the 2012 Challenge Cup for Biarritz, and also losing finalist medals from two European Cups in 2006 and 2010.
"I'm coming off two very tricky seasons," the loose forward acknowledged in reference to having played only 26 Top 14 games in the last 24 months.
"I also mulled over the possibility of ending my career. But I said to myself I couldn't end it on a season like that.
"Now I want to enjoy myself once again on the pitch, playing matches once more. I'm not going further than that. I'm thinking about tomorrow morning's physical session."