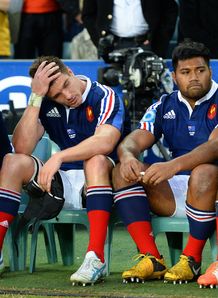 Related links
Teams
Also see
Toulon president Mourad Boudjellal has rubbished claims by the France staff that the influx of foreigners in the Top 14 is having a negative effect on the national team.
There are currently well over 200 foreign players plying their trade in the French top flight. In the wake of France's humiliating 3-0 series defeat in Australia in June, Bleus coach Phillipe Saint-André pointed an accusing finger in their direction, claiming these étrangers are diluting France's talent pool.
But Toulon's money-savvy boss, who has seen his club claim back-to-back European titles and a Top 14 championship thanks largely to the efforts of his foreign legion, is having none of it, labelling PSA's excuses as "bullshit".
Boudjellal was an outspoken supporter of Saint-André when he left Toulon for the national team, but his tone has changed drastically.
"Why are French players good when they play against the best in the Top 14 and why do we get the impression they play three levels below that when they are in the French team?," raged Boudjellal in an interview with L'Equipe.
"When players in the French side have no game plan, it is not because there are too many foreigners in the Top 14.
"Be serious. When Nicolas Mas goes backwards at scrum time, it's the same.
"You have to look at the facts. There are no more foreigners than there were three years ago. But what has changed in three years? The coaches! And I think the results are the consequence of what has changed.
"When you play three games and lose, that is not the fault of foreigners
"The [national team's] staff had better do some introspection rather than blame the Top 14. It's unbearable to hear adults blame others. We must ask the right questions.
"If they think the losses are not their responsibility, that they are no longer responsible. If that's the case, they must go."
"But I don't believe (they will). They won't resign."
Boudjellal believes the problem lies at grassroots, not at the elite level.
"We're looking at the problem in French rugby from the wrong direction," he continued.
"Are there a lot of talented young players that are being refused a place in favour of a foreigner? The answer is no. Why? Because our young talented players have not been well developed.
"The day that we can monetise the development of a player, the situation will change. We need to have contract transfers.
"At the moment, the problem with development is that one doesn't buy out the contract of a player from his academy, one buys a player at his market value.
"Between a player developed at your club an outside player who earns the same salary, what's the difference? A player developed at your club costs more because you have to pay for the years at the academy. It's easier to just take another player from elsewhere.
"If every time I want to recruit a player developed at a club I need to pay between 300 000 and 400 000 Euros, at some stage I'll decide to develop them myself.
"A new economic model is needed to solve the development problem."