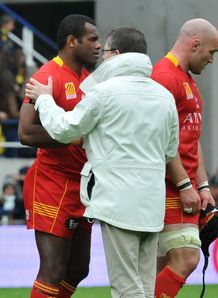 Perpignan president François Rivière is planning to use a war chest in order for USAP to return to the Top 14 as soon as possible.
Relegated for the first time in their 103 year history, a century to the exact day since they won their first French title, Rivière is keen to avoid the pitfalls of staying away from France's top league for too long.
The future of a number of players including James Hook and Luke Charteris remain uncertain, while Romain Taofifenua's departure was announced only minutes after Perpignan's relegation was confirmed.
"There was great sadness in the changing room, emotion, tears, but I made a speech to the players assuring them that we would do everything to gather one of the biggest budgets of the Pro D2, probably around €10 million, to try our hardest to get back to the Top 14 as quickly as possible," Rivière told Rugbyrama.
"I will hold a press conference on Wednesday in which I will unveil the new organisation of the club.
"As for the players, it is too early to say. But several things have disappointed me. I can understand that the international players wish to leave the club in order to best prepare for the 2015 World Cup but the way in which this has been expressed is not very gracious.
"It is just one example, but it has been 15 days now that I haven't heard from Sofiane Guitone either dismissing or confirming rumours that he's moving to Bordeaux.
Similarly, I didn't find it very gracious the way in which [Toulon owner] Mourad Boudjellal announced the arrival of Romain Taofifenua at Toulon ten minutes after the final whistle.
"I will have a discussion with a core group of players that we would like to keep.
"I have talked with Bertrand Guiry in particular and even though he hasn't assured me of anything, there have been a few reassuring words and I hope he will want to be part of this project. He is one of those players you can count on for his support to pass on the DNA of the club."