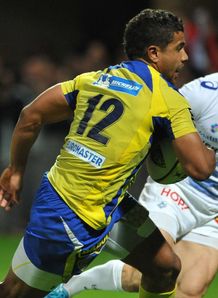 Clermont notched up a crucial win in the congested battle for the playoffs in the Top 14 by defeating champions Castres 23-11.
Securing the four points was as important as denying their visitors anything to take away from the Stade Marcel Michelin, as Clermont's unbeaten run extended to 77 games.
Two of their key finishers, Wesley Fofana and Napolioni Nalaga, both crossed when it mattered in the second half.
Brock James wasted no time by adding a drop goal in the opening minute for Clermont, and from some way out too at 43 metres.
Kockott levelled things up with a 40-metre strike in a low-scoring first quarter, Parra adding a penalty in the 26th minute before the game's first try was scored.
It went the way of the visitors, Uruguayan lock Rodrigo Capo Ortega crossing after a charge at the base of the ruck.
It gave Castres a lead that they maintained going into the half-time break, Clermont trailing and perhaps conscious that their unbeaten record at this venue was in danger.
They had nothing to fear. Noa Naikataci's burst had Clermont flying towards the Castres line and the attack ended with James releasing Fofana for the home side's first try.
Penalties were exchanged between Parra and Kockott as the second half wore on, before Nalaga landed the killer blow and secured a valuable win for Clermont.
The scorers:
For Clermont:
Tries: Fofana, Nalaga
Cons: Parra 2
Pens: Parra 2
Drop Goal: James
Yellow Card: Chaume
For Castres:
Try: Capo Ortega
Pens: Kockott 2
Yellow Card: Samson
Clermont: 15 Lee Byrne , 14 Noa Nakaitaci, 13 Benson Stanley, 12 Wesley Fofana, 11 Naipolioni Nalaga, 10 Brock James, 9 Morgan Parra, 8 Damien Chouly, 7, Julien Bardy, 6 Julien Bonnaire, 5 Julien Pierre, 4 Jamie Cudmore, 3 Clement Ric, 2 Benjamin Kayser, 1 Vincent Debaty.
Replacements: 16 Ti'i Paulo, 17 Raphael Chaume, 18 Nathan Hine , 19 Gerhard Vosloo, 20 Thierry Lacrampe, 21 Mike Delany, 22 Jean Marcellin Buttin, 23 Davit Zirakashvili.
Castres: 15 Geoffrey Palis, 14 Marcel Garvey, 13 Romain Cabannes, 12 Remi Lamerat, 11 Remy Grosso, 10 Remi Tales, 9 Rory Kockott, 8 Antonie Claassen, 7 Yannick Caballero, 6 Piula Faasalele, 5 Rodrigo Capo Ortega, 4 Christophe Samson, 3 Ramiro Herrera, 2 Mathieu Bonello, 1 Yannick Forestier.
Replacements: 16 Brice Mach, 17 Saimone Taumoepeau, 18 Richard Gray, 19 Ibrahim Diarra, 20 Cedric Garcia, 21 Daniel Kirkpatrick, 22 Romain Teulet, 23 Mihaita Lazar.
Referee: Jérôme Garcès
Assistant referees: Cyril Lafon, Stéphane Pomarède