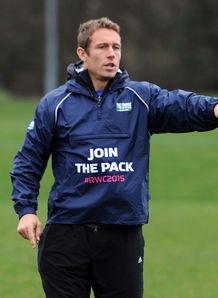 Related links
Teams
Jonny Wilkinson has spoken of his unofficial role as 'mentor' to some of Toulon's rising stars that could help prolong his own playing career.
The 34-year-old's current contract with Toulon expires at the end of the season but he is expected to agree a new deal at Felix-Mayol.
And the World Cup-winner said working with the likes of France centre Mathieu Bastareaud was helping reinvigorate his already superb career.
"I think that could help prolong things yes: I think as you get older maybe you just spend your time differently," Wilkinson said.
"When I was younger I was rugby 24/7 and I could live like that.
"Other interests come in as you get older and they help your rugby.
"For me I spend a lot of time working with other guys, seeing if I can help them, and it benefits me as well too in the rugby sense," added Wilkinson, whose extra-time drop-goal saw England to World Cup glory back in 2003.
"It helps me think, helps me view things different, it revives me in the morning, it makes me feel fresh, and I can feel good about seeing other people do well.
"And that move to France, that's what it was all about, and to try to keep on getting better and better."