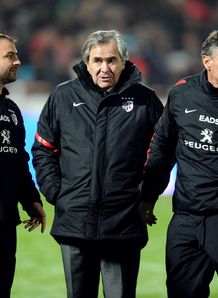 Related links
Teams
Toulouse president Jean-René Bouscatel has lashed out at French administrators after Saturday's Top 14 home defeat to Montpellier.
Toulouse were missing six players on Six Nations duty with the French national team (Yoann Maestri, Louis Picamoles, Yannick Nyanga, Jean-Marc Doussain, Yoann Huget and Gaël Fickou ) as they crashed to their first home loss of the Top 14 season and slipped to seventh in the standings.
The result was Montpellier's first win in the Ville Rose in eleven attempts and Bouscatel blamed the agreement between the French Federation and the Ligue Nationale de Rugby which has seen the French squad in camp for the past fortnight, depriving clubs of their top players.
The agreement also allows for the national staff to request that players be rested for next weekend's round of Top 14 games.
"I do not know if there are a lot of "pipes" at the Federation and the League, I think we should not say that, it is a forbidden word ," Bouscatel told Canal +, referring to the vulgar remarks made by Toulon manager Bernard Laporte regarding a referee.
"However, there are many hypocrites and buffoons.
"I thank them for giving us games like this and for putting us in the difficulties that we have been in over the past weeks," he added sarcastically.
"And it will continue. I'll wait for Sunday night to know that the staff of the French team will do for the international players who are at their clubs.
"I'm really angry against the system of collusion between the League and Federation. I am extremely angry and I would have been whatever the result. They really are hypocrites and jesters."
Since the signing of the FFR-LNR agreement, Bouscatel has spoken out against its provisions that make the Top 14 "unfair and devalued."
In protest, Bouscatel has resigned from LNR board of directors, of which he has been part since 1998 .
Toulouse are confronted by the threat of missing out on the play-offs as they face back-to-back away games in Biarritz and Castres.
The 19-time French champions have yet to win on the road this season but must travel to four of their next five fixtures.