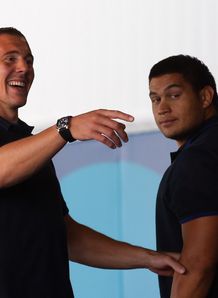 Related links
Also see
Biarritz number eight RaphaŽl Lakafia is out for four to six weeks after a training ground incident led to a mass brawl.
Lakafia missed Biarritz's match with Sale last week but the nature of his injury wasn't made public until Tuesday.
According to reports in France, Lakafia broke his hand in a training ground punch up with former France number eight Imanol Harinordoquy last Thursday.
Lakafia was tackled by Harinodoquy and Fabien Barcella, with Harinordoquy then sparking the brawl by punching Lakafia, who fought back.
The incident started a melee between the older and younger members of the squad.
"A small scuffle, nothing nasty," commented Harinordoquy.
Lakafia admitted that his hand was broken and that he would be out for four to six weeks, saying publicly that his hand was stood on at a ruck in the same training session.
The incident led to a heated open-air discussion between Biarritz stalwart Dimitri Yachvili and forwards coach Laurent Rodriguez.
Biarritz face a must-win match this weekend in the Top 14 against Oyonnax.