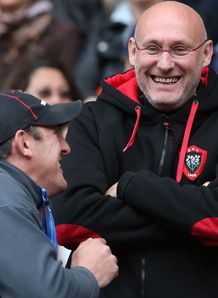 Toulon coach Bernard Laporte will appear before a French league disciplinary hearing next month after a vicious verbal tirade against a referee.
At the hearing on February 5, Laporte must explain why he described referee Laurent Cardona as "hopeless" and "completely incompetent" and accused him of "robbing" his team in every match.
His comments came after Toulon were beaten 22-21 by Grenoble in the Top 14 earlier this month.
"He robs us every time. On the game's last move there was a strategic error, a referee error," Laporte, a former national team coach and sports minister in the French government, told RMC Sport radio in the wake of the match.
"It is not just this incident where he was hopeless. He was hopeless all the matches. He is always hopeless."
Laporte is set to go down fighting, saying last week that he would welcome relish the chance to answer the charges against him.