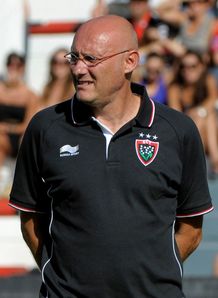 Related links
Also see
Toulon boss Bernard Laporte has welcomed being called to face a French disciplinary committee after his disparaging remarks regarding referee Laurent Cardona.
Fédération Française de Rugby and Ligue Nationale de Rugby presidents Pierre Camou and Paul Goze have reported Laporte to the LNR Disciplinary Committee following his repeated outbursts in which he refereed to Cardona as "incompetent" and "hopeless" (amongst a few other French insults not fit for publication).
Cardona raised Laporte's ire after refereeing Toulon's shock home loss to Grenoble a fortnight ago after which the coach said the official "robbed" his team "every time."
A week later, Laporte was still ranting, saying the referee could take his reconciliatory text messages and "shove them up his arse."
The former French secretary of sport - who was slapped with a 60-day touchline ban in 2012 for similar comments about match officials - has said he would relish the chance to answer the charges against him.
"I would be happy to meet members of the commission and talk with them," said Laporte.
"I want to know, for example, why a player (Sébastien Chabal) who punches someone only gets a three-match suspension or is not even sanctioned, while another, (Toulon scrum-half) Sébastien Tillous-Borde, for example, gets four weeks for stepping on someone.
"If one has the right to punch, I will notify my players instead of telling them to be disciplined."
Last week, Laporte lashed out at the standard of refereeing on the Top 14 in general.
"There has to come a time when someone says 'stop'," said the former France coach.
"The problem is that there is only me and Guy (Novès, Toulouse's manager) who speak out. The Top 14 is crap and everyone is bored stiff."