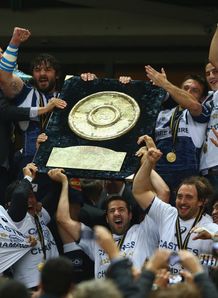 Related links
Also see
The Ligue Nationale de Rugby have signed a new five-year agreement with Canal+ worth a total amount of €355 million.
The option to put the television rights out to tender was suspended by the Top 14 last week, despite major interest from Qatari-owned beIN Sport, before the new deal was signed.
The league will receive €70 million for the first two seasons, €71 million in 2016/17 and €72 million for the final two years of the agreement.
"This new partnership, which is the biggest for club rugby in the world, will allow the Top 14 to continue to develop it's exposure and strengthen the status of the Top 14 as the most attractive league in the world," said an LNR statement.
By contrast the latest Aviva Premiership TV rights deal with BT Sport signed in 2012 was worth £152 million over four years from the beginning of this season.
The new average of €71 million per season for the Top 14 is a marked increase from the €31.7 million paid by Canal for this current season.
Moreover, a significant addition in funding is likely to help Top 14 clubs with their ambitious recruitment plans in the future.