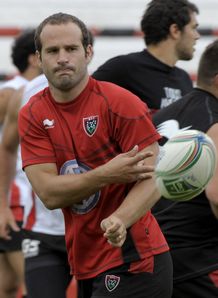 Toulon boss Bernard Laporte insists that French international Frédéric Michalak will not be leaving the European champions any time soon.
The former Toulouse and Sharks playmaker has been the target of a number of clubs after failing to feature regularly in Toulon starting XV.
His lack of game time was also largely to blame for his recent exclusion from the French national squad for the Six Nations.
Despite Grenoble opening chasing the 31-year-old, Laporte says the versatile half-back has no intention of leaving RCT.
"For the moment, there is no question Frédéric Michalak leaving Toulon," Laporte told RMC.
"If he wishes [to leave], that would be something else but for now, I do not think that is his desire. He wants to stay here, he likes it a lot here."