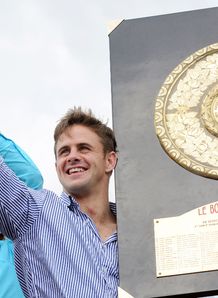 Keep up to date with all of the latest transfer rumours and developments in the Top 14 as the annual transfer rollercoaster rumbles on.
Clermont
Usually quiet on the transfer market, the Auvergne-based club have been very active. New President Eric de Cromières declared he was obliged to change the squad to avoid being stuck with an old pack. As a result, promising Perpignan and France lock Sebastien Vahaamahina as well as ex-Waratahas hooker John Ulugia have already signed, replacing Nathan Hines (retiring) and Benoit Cabello respectively, who should be off to Perpignan this summer.
With Vern Cotter coaching Scotland next year, the man in charge of the forwards will be Jono Gibbes, thrice a champion of Europe with Leinster. Unless Gibbes brings Sean O'Brien (who seems closer to Toulon) in his luggage, then Victor Kolelishvili, loaned to Lyon, should come back to replace Gerhard Vosloo, who is on his way out.
Current backs coach Franck Azema will be promoted to head coach and will have the opportunity to use British and Irish Lions center Jonathan Davies instead of one-time All Black Regan King, who will do the opposite trip back to Wales. The persistent Leigh Halfpenny rumour is fading but Zac Guildford has signed to compensate for Sitiveni Sivivatu's surprise signature at Castres and Lee Byrne's departure to the Dragons.
Stade Français
Despite the club's new ambitions and its current very good position in the league, Stade Français have not officially signed a single new player. They have, however, targeted some positions that need to be reinforced: scrum-half and flanker.
The Parisian club are keeping an eye on Frederic Michalak, who has fallen out of the hierarchy of both scrum-halves and fly-halves in Toulon, as well as his teammate, Sébastien Tillous-Borde. As for the back-row, le Stade are not tempted to act on Sam Waburton's hesitations to pen a new deal in Wales. However Antoine Battut from Parisian rivals Racing and Pierre Spies from the Bulls remain more probable targets. Benjamin Macome might come to reinforce the club as medical joker. The only official move in Paris was centre Martin Rodriguez Gurruchaga's departure for Argentina.
Castres
The Top 14 champions have been unexpectedly active. New coaches David Darricarrère and Serge Milhas wish to recruit a centre such as Vereniki Goneva to compensate for some departures. Ex-Castres coaches Laurent Labit and Laurent Travers, now at Racing Métro, have contacted players they know well such as French internationals Brice Dulin and Antonie Claassen, or Georgian prop Anton Peikrishvili.
Rory Kockott has been flirting with Toulon (even signing a pre-contract) and Racing, but the arrival of the prestigious Sivivatu (half-confirmed on Twitter by the All Black) in the Tarn has apparently made Kockott rethink his future. The Clermont magician is not the only international player in talks with Castres - Alexis Palisson has received an offer to replace Dulin and the club is in talks with Johnnie Beattie and Imanol Harinordoquy, whose situation is linked with Biarritz's future.
Toulon
Unsurprisingly, Mourad Boudjellal's club have been in contact with pretty much every top player with a contract expiring. In their thirst for trophies, the club has to prepare the future. Jonny's Wilkinson retirement seems likely given Matt Giteau is now Bernard Laporte's first-choice fly-half. Joe Van Niekerk and Danie Rossouw should also retire by the end of the season. In addition, Frederic Michalak, Alexis Palisson and Sébastien Tillous-Borde are also hesitating to extend their stay in Toulon, while Virgile Bruni has already signed for Perpignan.
As a response, the club has already snapped the Top 14 Player of the Season from 2010-2011, Mamuka Gorgodze, as well as Perpignan hooker Guilhem Guirado, who both have the advantage of having come through academies in France (French clubs are obliged to have 55% of French academies graduates in their squad).
Ian Evans has also inked a deal with Toulon. and his Welsh teammate Leigh Halfpenny has, according to Midi Olympique, agreed verbally to join and could replace Wilkinson's amazing left foot. James O'Connor, once rumoured in Toulon, will head back to Super Rugby.
Another hot matter is Kockott, the matchwinner of last year's Top 14 Final and another brilliant kicker, who has signed a pre-contract. The question remains if Kockott has (finally) made up his mind after a year of hesitations. Toulon have also targeted a few forwards to reinforce their pack, such as Jamie Heaslip, Sean O'Brien (who has visited Toulon), Ben Mowen or even Harinordoquy.
Toulouse
Guy Novés and his president Réné Bouscatel have continually complained about the injustice of the current situation, which allows the French national team to select ten Toulousains for international fixtures while the club has to fight in the Top 14.
As a result the club has decided to recruit less French-qualified players. With the exception of the very promising Biarritz wing, Teddy Thomas, all the approached players are foreigners.
Toulouse are very interested in the CVs of Jamie Heaslip and Sean O'Brien. The other target for the four-time European champions is a consistent fly-half. Luke McAlister's injuries and Lionel Beauxis' inconsistency (signed by Bordeaux-Bègles) have lead to very close contacts with Toby Flood, who is expected to sign after his eviction from the England squad. Other probable departures are Yves Donguy, an excellent try scorer but far behind in the hierarchy of wingers, and Yohan Montès, who has been regularly criticized for his negative impact in the red and black scrum. Akapusi Qera has already joined from Gloucester.
Montpellier
For Montpellier the concern so far has not been the 2014 recruits but the 2013 ones. The very late arrival of Rene Ranger and Sitaleki Timani made Fabien Galthié furious. He recently declared in Midi Olympique that this fiasco is never to happen again. Next year's targets are to be not less ambitious, but more reasonable.
The players contacted are all Europeans, or French, except for one. Ben Mowen's shock announcement earlier this week that he was moving to France has seen Montpellier heavily touted as his destination on a three-year deal.
Other prestigious players linked with the club include Jamie Heaslip and Frédéric Michalak. In addition, according to L'Equipe, Montpellier have signed international full-back Benjamin Fall. However the excitement might come from Samisoni Virviri, the Sevens Fijian superstar winger, the second official recruit by Montpellier.
But so far the official losses, or rather the loss of Mamuka Gorgodze, outweigh the potential recruits, as the big man is undoubtedly the powerhouse of his club. Another loss could be John Beattie who is in contact with Castres.
Grenoble
A newly ambitious club, Grenoble have been very aggressive on the market, not hesitating to contact Fritz Lee two weeks after his arrival in Clermont (he has extended his contract since). However, the motives for such a strategy are not only ambition, but also simply to compensate the potential departures of fifteen players.
Many players need to play more, such as Flavien Nouhaillaguet, Olivier Chaplain or Gregory Fabro, who don't seem to fit in Grenoble's plans. Others like Shaun Sowerby, Rudi Coetzee or Florian Ninard are getting closer to the end of their careers and will probably try a last adventure with a Pro D2 club, unless they retire.
The remaining players with their contracts ending are mainly Australians such as Dan Palmer, Peter Kimlin or Anthony Hegarty, who all arrived last year. But the "Australian connection" remains strong as Grenoble is trying to attract Wallabies Ben Alexander and Stephen Moore.
However these possibilities are very hypothetical, a "utopia" in Fabrice Landreau's words, as it is hard to imagine them making a cross on the next World Cup, although Mowen's recent declaration may set a precedent. In addition to Jonathan Wisniewski's confirmed arrival, the aging Clermont flanker Gerhard Vosloo should strengthen the team. The club has already announced that backs coach Franck Corrihons will not pursue continue with the side.
Racing Métro
With last year's gob-smacking recruitment and this year's disappointing results, one would expect the Ile-de-France club to let the coaches build on the current squad. However Racing are as determined as ever to rival the top teams... in the transfer market.
The recent signing of Mike Phillips (after being fired from Bayonne) proved the club's ambition but also rendered opaque Racing's strategy; why recruit a fifth scrum-half? To reunite the Lions? With Racing attracted to the CV's of Sean O'Brien, Alex Cuthbert and Alun-Wyn Jones, Racing's team will sound very familiar to British viewers.
The immediate consequence of such ambition is the departure of many French players, mainly products of the Racing academy - Antoine Battut, Sebastien Descons, Wisniewki, Fabrice Metz, Maxime Machenaud, Julien Brugnaut and the list goes on. Also, the most expensive man in the history of French rugby (€500,000), Benjamin Fall, has signed for Montpellier.
To balance such an exodus, the Top 14-winning staff with Castres are contacting players they know well: Kockott, Claassen, Dulin, Anton Peikrishvili, all from their former club. Also on the hunt for a centre, Labit and Travers are apparently close to a deal with Casey Laulala from Munster.
Bordeaux-Bègles
There is very little to say about Bordeaux so far this year, bar the arrival of Beauxis. If last year was busy, this year the squad will remain largely unchanged. Nine players and the whole staff have prolonged for at least two years. The only (official) changes are the retirement of veteran Bruce Reihana, the departures of Cameron Treloar, Gautier Gibouin and Rafaël Carballo. Nicolas Sanchez, who will leave the club by the end of the season - brilliant with Argentina, he has never been convincing with Bordeaux. To compensate for the retirement of Reihana the club are interested in Palisson (who however would prefer to play in the Heineken Cup).
Brive
A very good start to the season for Les Corréziens has reinforced the strategy of stability introduced last year. Apart from the contract extensions, there have been no official moves. One should expect more players penning new deals in the coming weeks rather than leaving, with the exception of Guillaume Namy, linked with Perpignan. Another player potentially leaving is lock Julien Ledevedec, but the club is in contact with a possible replacement in Russlan Boukerou from Auch.
Perpignan
After a busy summer and an average start of the season, Perpignan are trying to stabilize their squad. They are not, however, being helped by the big guns of the Top 14. Figureheads Sébastien Vahaamahina and Guilhem Guirado have already signed respectively with Clermont and Toulon. While no replacements have been officially found, the club has made a short-list of players: locks Metz, Thibault Lasalle and Julien Ledevedec and hookers Cabello and Jean-Phillipe Genevois.
However the possible departure of Maxime Delonca may force the club to take both Cabello and Genevois. Another possible departure, or even retirement, concerns Kisi Pulu, the 35-year-old prop. Montès is rumoured to replace him, and will be work with young loosehead prop Antoine Tichit, who signed in December.
In addition Perpignan have caused quite a stir when they signed flanker Virgile Bruni from Toulon, for "a few extra euros" according to Bernard Laporte. Perpignan would like to add Castres number eight Pedrie Wannenburg. As if the pack had not been changed enough, Giampero de Carli, the forwards' coach will join his ex-boss Jacques Brunel with the Italian national side. Grégory Patat will replace him.
Although the pack is unstable, the backs should stay in the south of France. However some new faces could reinforce Perpignan. If Palisson prefers a team playing the Heineken Cup, Donguy is close to an agreement. Overall, it seems President Rivière's recent acquisition of the club has not yet had the effect hoped for by the fans.
Bayonne
Far from the flashy recruitment of previous years, Bayonne have been very reasonable so far. The Mike Phillips affair has meant the club have searched for a scrum-half. Quite tight on its percentage of players trained in France, Bayonne would prefer a French player such as Sébastien Tillous-Borde, or more realistically Sébastien Descons (one of the five Racing scrum-halves), unless they steal Yann Lesgourges from Biarritz.
On the potential list of departures we also find Jean-Joseph Marmouyet, but more importantly Gabriele Lovobalavu, whose complementary combination in the centre with Joe Rokocoko has been key to Bayonne's results.
Oyonnax
Another 'small club' that prefers continuity to off-season upheaval. However the bigger clubs don't always play that way. Perpignan have already signed Tichit, a cornerstone of "Oyo's" scrum and are interested in lock Thibault Lasalle.
The interest Oyonnax has for Ledevedec from Brive seems to confirm that Lasalle might leave. Conrad Bernard could also leave Oyonnax, possibly to retire. So very few changes, although relegation would probably change a lot next year's squad.
Biarritz
Biarritz are in a very difficult and rare situation. The club is 16 points behind the other relegation spot held by Oyonnax with only ten matches left. In addition, unlike others, Biarritz have a lot of old internationals, or very promising youngsters.
Many players like Dimitri Yachvili, Harinordoquy (contacted by Toulon), or Damien Traille (contacted by Pau), are excellent internationals who together average 86 caps and would probably not accept playing for Biarritz in the D2.
Other renowned players such as Arnaud Héguy or Francisco Gomez Kodela have attracted the attentions of Grenoble and some English clubs.
On the wings, if Takudzwa Ngewnya's situation is unclear (will he extend his stay, even in D2?), Aled Brew is off to Newport Gwent Dragons. But the biggest blow would be the departure of Biarritz's young generation - a movement that has started last year with the moves of Wenceslas Lauret and Jean-Pascal Barraque. Thibault Dubarry could join Lauret at Racing, Raphaël Lakafia interests many big clubs (Castres, Clermont, Toulon), Yann Lesgourges could move a few kilometers north, to Bayonne, and Biarritz's latest revelation, Teddy Thomas, is in advanced contact with Toulouse. No one has prolonged and no information has leaked about the names of the potential replacements. Biarritz are in la merde.
by Francois Valentin