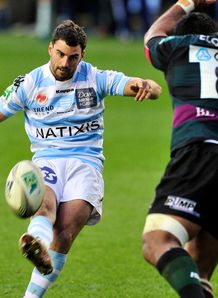 Racing-Metro fly-half Jonathan Wisniewski is closing in on a move to Grenoble next season, a source close to the club said Tuesday.
The 28-year-old has been pushed down the pecking order at the Parisians since Ireland fly-half Jonathan Sexton's arrival at the beginning of the season.
"He is well on the way to joining. He has a contract in his hands and he wants to join Grenoble," the source told AFP, although he added: "nothing has yet been signed."
Wisniewski, who was top points scorer in the Top 14 in 2011, has played only nine matches this season, with five starts, scoring just 20 points.
He is out of contract at the end of the season.
Should he join Grenoble, who are currently above Racing in the Top 14 standings, he would provide competition for Englishman Olly Barkley, who made the same move in the last off season, and perhaps New Zealander Blair Stewart, who is mulling over a prolongation to his current deal.