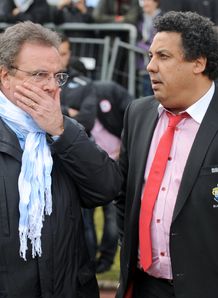 Related links
Also see
Bayonne president Alain Afflelou said he was open to the idea of a merger with fellow Basque Top 14 side Biarritz ahead of next season.
Afflelou, who was once the major shareholder of Bordeaux Football Club before falling out of love with the sport and turning his attention to rugby, said that it made little financial sense for the two clubs to remain separate in a sport that was increasingly about money.
Afflelou was speaking after both clubs announced earlier on Wednesday that they were examining the conditions of a possible merger - though it would only be at the professional level as their youth programmes would be kept separate.
Both Bayonne and Biarritz are struggling this season and in danger of relegation, which would be a particular disaster for the latter, winners of successive French titles in 2005 and 2006 and Heineken Cup finalists in 2006 and most recently in 2010.
However, they have been unable to match the spending power of clubs like Toulon and Racing-Metro and, with players such as Dimitri Yachvili and Imanol Harinordoquy ageing and not being adequately replaced, their results have suffered accordingly.
Bayonne are second from bottom on 25 points after 13 matches while Biarritz are bottom eight points adrift of them.
"Today in professional rugby one has to have lots of money at one's disposal," Afflelou told French radio station RMC
"We have two clubs, with two stadia three kilometres part as the crow flies... It is a little idiotic not to try and see if there isn't a simpler solution."
Afflelou, who remarked there was no question of either club losing their identity, admitted that he and his Biarritz counterpart Serge Blanco had initially been opposed to the idea, but that had now changed.
"That was until three or four months ago," Afflelou added.
"However, then we said we will not die a pair of idiots knowing we tried to do something intelligent to resolve the situation, given the amount of other people crying out for something such as this to be done."
Blanco, who was sitting alongside Afflelou, said there was no reason why the clubs could not be a single competitive outfit by next season.
"Why not? After studying the matter and then discussing what comes out of the study anything can happen, though one shouldn't rush things."