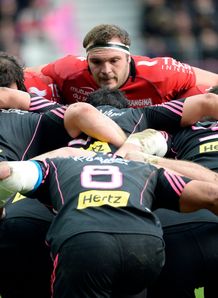 Toulon forwards coach Jacques Delmas has defended his team's scrum amidst stern criticism following Saturday's heavy loss to Stade Français.
In the wake of RCT's biggest loss of the season, Toulon president Mourad Boudjellal described his team's set piece as the "worst scrum in the Top 14."
Delmas said that he understood the reaction but insisted that Toulon's scrum issues were not new.
"I have twenty years of experience on the job," Delmas told La Provence.
"What interests me is that we are progressing. Regarding the scrum, we will get there. Last year, the RCT suffered in this area, but that was obviously forgotten.
"At the time, there we had Sébastien Bruno who solved all the problems. Today we don't have a strong hooker like that, but we will work so that, collectively, we can compensate.
"That's how it goes. People forget quickly, we know...There are a lot of guys who forget what I've done for twenty years. Scrums, props, hookers, I've seen plenty.
"Scrums in trouble? Well, we've done some strong scrums. Scrummaging is work, but it is especially the school of humility. And when we lack humility, we get caught out. This time, precisely, I think we lacked a little humility."