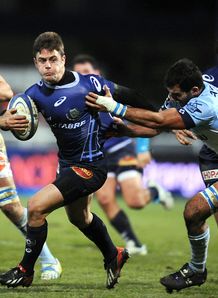 Related links
Also see
Castres lead the way in Round 13 of the Top 14 with their handsome 46-16 victory over Bayonne, with Biarritz losing again.
The Basque side saw the gap between themselves and safety widen after losing at home.
Elsewhere, Racing saw off Montpellier and Oyonnax were victorious again at home.
In the late game on Saturday, Grenoble pulled off a surprise win over Toulouse.
Results:
Perpignan 23-30 Clermont
Stade Français 23-0 Toulon
Biarritz 15-22 Bordeaux-Bègles
Castres 46-16 Bayonne
Oyonnax 28-9 Brive
Racing-Metro 17-12 Montpellier
Grenoble 25-18 Toulouse
---
Biarritz Olympique 15-22 Union Bordeaux-Bègles
Parc des Sports d'Aguilera, Biarritz
Three second-half tries handed Bordeaux-Bègles a crucial away win against fellow relegation strugglers Biarritz.
The struggling Basque outfit were condemned to their 13th loss of the season and are now eight points adrift following Oyonnax's win over Brive.
Dimitri Yachvili scored ten points including a try in the first-half, but the talisman couldn't inspire his team to victory.
Instead a crucial sin-binning for Imanol Harinordoquy early in the second half paved the way for Bordeaux-Bègles to win, with Louis Madaule, Metuisela Talebula and Julien Rey all going over, with fly-half Pierre Bernard adding the extras.
The scorers:
For Biarritz:
Tries: Yachvili, Ngwenya
Con: Yachvili
Pen: Yachvili
Yellow Card: Harinordoquy
For Bordeaux-Bègles:
Tries: Madaule, Talebula, Rey
Cons: Bernard 2
Pen: Bernard
Biarritz: 15 Damien Traille, 14 Takudzwa Ngwenya, 13 Seremaia Burotu, 12 Benoit Baby, 11 Aled Brew, 10 Dimitri Yachvili, 9 Yann Lesgourgues, 8 Imanol Harinordoquy, 7 Tanguy Molcard, 6 Benoit Guyot, 5 Mathias Marie, 4 Erik Lund, 3 Francisco Gomez Kodela, 2 Jean Philippe Genevois, 1 Thomas Synaeghel.
Replacements: 16 Jonnah Dabti, 17 Alexandre Menini, 18 Addison Lockley, 19 Ueleni Fono, 20 Joshua Furno, 21 Luix Roussarie, 22 Daniel Waenga, 23 Benedict Broster.
Bordeaux-Bègles: 15 Darly Domvo, 14 Metuisela Talebula, 13 Felix Le Bourhis, 12 Julien Rey, 11 Blair Connor, 10 Pierre Bernard, 9 Heini Adams, 8 Matthew Clarkin, 7 Hugh Chalmers, 6 Louis Benoit Madaule, 5 Adam Jaulhac, 4 Jandre Marais, 3 Albert Toetu, 2 Clement Maynadier, 1 Jean Batiste Poux,
Replacements: 16 Wayne Avei, 17 Laurent Delboulbes, 18 Alikisio Fakate, 19 Matt Graham, 20 Taiasina Tuifua, 21 Emmanuel Saubusse, 22 Romain Lonca, 23 Silviu Florea.
Referee: Cyril Lafon
---
Castres Olympique 46-16 Aviron Bayonnais
Stade Pierre Antoine, Castres
Champions Castres were in rampant form at home to Bayonne, running in six tries and putting over 40 points on the board.
France international Brice Dulin was one of the six scorers as Bayonne put up little fight.
The visitors did have Opeti Fonua and Mark Chisholm both sent to the bin in the second half as Castres wrapped up the try bonus point through replacement hooker Marc Antoine Rallier.
Ibrahim Diarra and Romain Marital then added the gloss on top of a heavy win as Castres move closer to the top four.
The scorers:
For Castres:
Tries: Cabannes, Kirkpatrick, Dulin, Rallier, Diarra, Marital
Cons: Kockott 3, Garcia 2
Pens: Kockott 2
For Bayonne:
Try: Rokocoko
Con: Bustos Moyano
Pens: Bustos Moyano 3
Yellow Cards: Fonua, Chisholm
Castres: 15 Brice Dulin, 14 Romain Martial, 13 Romain Cabannes, 12 Remi Lamerat, 11 Remy Grosso, 10 Daniel Kirkpatrick, 9 Rory Kockott, 8 Antonie Claassen, 7 Yannick Caballero, 6 Pedrie Wannenburg, 5 Rodrigo Capo Ortega, 4 Richie Gray, 3 Anton Peikrishvili, 2 Brice Mach, 1 Saimone Taumoepeau.
Replacements: 16 Marc Antoine Rallier, 17 Mihaita Lazar, 18 Christophe Samson, 19 Ibrahim Diarra, 20 Cedric Garcia, 21 Remi Tales, 22 Geoffrey Palis, 23 Karena Wihongi.
Bayonne: 15 Scott Spedding, 14 Martin Bustos Moyano, 13 Joe Rokocoko, 12 Manu Ahotaeiloa, 11 Marvin O'Connor, 10 Santiago Fernandez, 9 Mathieu Belie, 8 Opeti Fonua, 7 Jean Marmouyet, 6 Jean Monribot, 5 Mark Chisholm, 4 Lisiate Faaoso, 3 Nemiah Tialata, 2 David Roumieu, 1 JC Janse van Rensburg,
Replacements: 16 Anthony Etrillard, 17 Gert Muller, 18 Dewald Senekal, 19 Charles Ollivon, 20 Guillaume Rouet, 21 Stephen Brett, 22 Julien Puricelli, 23 Aretz Iguiniz.
Referee: Jérôme Garcès
---
US Oyonnax 28-9 CA Brive-Corrèze
Stade Charles-Mathon, Oyonnax
23 points from the boot of Benjamin Urdapilleta drove Oyonnax to yet another win at home this season, as they saw off Brive 28-9.
The Argentinian struck seven penalties and added a conversion to Silvere Tian's 64th minute try.
Oyonnax only lead 15-9 at the break due to penalties from Gaetan Germain and Riaan Swanepoel in the first half, before putting 13 unanswered points on the board after the break.
Tian's try was the only one of the match, with the wing bursting through two tacklers and then hitting the accelarator to go over in the corner.
The scorers:
For Oyonnax:
Try: Tian
Con: Urdapilleta
Pens: Udrapilleta 7
For Brive:
Pens: Germain 2, Swanepoel
Oyonnax: 15 Lucas Gonzalez Amorosino, 14 Silvere Tian, 13 Pierre Aguillon, 12 Hemani Paea, 11 Dug Codjo, 10 Benjamin Urdapilleta, 9 Agustin Figuerola, 8 Fred Slade, 7 Valentin Ursache, 6 Joseph el Abd, 5 Damian Browne, 4 Damien Lagrange, 3 Marc Clerc, 2 Jody Jenneker, 1 Lukas Rapant.
Replacements: 16 Neil graham Clark, 17 Ruaan Du preez, 18 Miroslav Nemecek, 19 Christophe Andre, 20 Scott Newlands, 21 Regis Lespinas, 22 Roimata Hansell pune, 23 Antoine Tichit.
Brive: 15 Gaetan Germain, 14 Guillaume Namy, 13 Arnaud Mignardi, 12 Andrew Mailei, 11 Elia Radikedike, 10 Riaan Swanepoel, 9 Damien Neveu, 8 Petrus Human, 7 Dominiko Waqaniburotu, 6 Said Hireche, 5 Arnaud Mela, 4 Julien Ledevedec, 3 Patrick Barnard, 2 Guillaume Ribes, 1 Goderzi Shvelidze,
Replacements: 16 Francois da Ros, 17 Karlen Asieshvili, 18 Simon Pinet, 19 Kieran Murphy, 20 Thomas Sanchou, 21 Thomas Laranjeira, 22 Laurent Ferreres, 23 Johannes Coetzee.
Referee: Sébastien Clouté
---
Racing Métro 92 17-12 Montpellier Hérault Rugby
Stade Yves Du Manoir - Colombes (Paris)
Four penalties from the boot of scrum-half Maxime Machenaud were enough for Racing Métro to see off Montpellier at home.
Benjamin Fall grabbed the only try of the match in the 55th minute after the French international went past Rene Ranger to touch down.
Montpellier did take away a losing bonus point thanks to three penalties from Jonathan Pélissié and a Francois Trinh-Duc drop goal.
But Racing finished on top in a key win to get their season back on track after struggling in recent weeks.
The scorers:
For Racing Métro:
Try: Fall
Pens: Machenaud 4
For Montpellier:
Pens: Pélissié 3
Drop Goal: Trinh-Duc
Racing Métro : 15 Benjamin Lapeyre, 14 Benjamin Fall, 13 Henry Chavancy, 12 Fabrice Estebanez, 11 Juan Imhoff, 10 Benjamin Dambielle, 9 Maxime Machenaud, 8 Jone Qovu, 7 Bernard Le Roux, 6 Wenceslas Lauret, 5 Juandre Kruger, 4 Karim Ghezal, 3 Luc Ducalcon, 2 Dimitri Szarzewski, 1 Davit Khinchagishvili.
Replacements: 16 Virgile Lacombe, 17 Eddy Ben Arous, 18 Francois van der Merwe, 19 Antoine Battut, 20 Laurent Magnaval, 21 Marc Andreu, 22 Alexandre Dumoulin, 23 Walter Desmaison.
Montpellier: 15 Pierre Berard, 14 Rene Ranger, 13 Robert Ebersohn, 12 Wynand Olivier, 11 Anthony Tuitavake, 10 Francois Trinh Duc, 9 Jonathan Pelissie, 8 John Beattie, 7 Mamuka Gorgodze, 6 Alexandre Bias, 5 Robins Tchale Watchou, 4 Jim Hamilton, 3 Nicolas Mas, 2 Charles Geli, 1 Mikheil Nariashvili,
Replacements: 16 Mickael Ivaldi, 17 Maximiliano Bustos, 18 Thibaut Privat, 19 Kelian Galletier, 20 Benoit Paillaugue, 21 Yoan Audrin, 22 Benoit Sicart, 23 Naama Leleimalefaga.
Referee: Laurent Cardona
---
Grenoble FC 25-18 Stade Toulousain
Stade des Alpes, Grenoble
Irish scrum-half James Hart inspired Grenoble to a big win over Toulouse at the Stade des Alpes.
Hart kicked six penalties and converted winger Julien Caminati's 61st-minute try in a second-half fightback against the visitors.
Hosea Gear and Maxime Médard scored tries within five minutes of each other after half-time, when both teams were down to 14 men following yellow cards for Grenoble prop Richard Choirat and Toulouse loosehead Schalk Ferriera following problems at the scrum.
Grenoble then hit back from 9-15 down to lead 25-15 before a penalty from Jean Pascal Barraque brought Toulouse back into losing bonus point territory.
Gillian Galan's late yellow card however stemmed their chase of the lead as Grenoble hung on for an impressive win.
The scorers:
For Grenoble:
Try: Caminati
Con: Hart
Pens: Hart 6
Yellow Card: Choirat
For Toulouse:
Tries: Gear, Médard
Con: Barraque
Pens: Barraque 2
Yellow Cards: Ferriera, Galan
Grenoble: 15 Fabien Gengenbacher, 14 Benjamin Thiery, 13 Rida Jaouher, 12 Geoffroy Messina, 11 Julien Caminati, 10 Blair Stewart, 9 James Hart, 8 Florian Faure, 7 Peter james Kimlin, 6 Jonathan Best, 5 Benjamin Hand, 4 Hendrik Roodt, 3 Richard Choirat, 2 Anthony Hegarty, 1 Kenan Mutapcic.
Replacements: 16 Albertus Buckle, 17 Vincent Campo Castillo, 18 Andrew Farley, 19 Fabien Alexandre, 20 Henry Vanderglas, 21 Matthieu Nicolas, 22 Nicolas Bezy, 23 Dayna Edwards.
Toulouse: 15 Clement Poitrenaud, 14 Maxime Medard, 13 Yann David, 12 Gael Fickou, 11 Hosea Gear, 10 Jean Pascal Barraque, 9 Sebastien Bezy, 8 Louis Picamoles, 7 Yacouba Camara, 6 Yannick Nyanga, 5 Joe Tekori, 4 Romain Millo chlusky, 3 Census Johnston, 2 Christopher Tolofua, 1 Schalk Ferreira,
Replacements: 16 Chiliboy Ralepelle, 17 Gurthro Steenkamp, 18 Edwin Maka, 19 Gillian Galan, 20 Jano Vermaak, 21 Timoci Matanavou, 22 Florian Fritz, 23 Yohan Montes.
Referee: Romain Poite