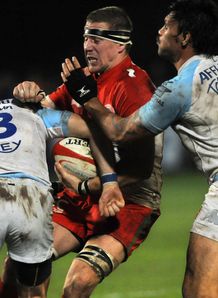 Related links
Also see
There is more than a hint of desperation in the air ahead of this weekend's Basque Derby, which headlines Saturday's action in France.
With both Bayonne and Biarritz wallowing in the relegation zone, the usually fiery derby is set to be even more intense (if that is even possible).
The serious business at the top end of the standings kicks off on Friday, when second-placed Stade Français host third-placed Montpellier.
Elsewhere, defending champs Castres host Racing Métro as coaches Laurent Labit and Laurent Travers visit their former club while Toulouse travel to Perpignan.
Fixtures:
Friday, September 27
Stade Français v Montpellier
Saturday, September 28
Oyonnax v Toulonnais
Bayonnais v Biarritz
Castres v Racing Métro
Grenoble v Brive
Perpignan v Toulouse
Sunday, September 28
Clermont v Bordeaux-Bègles
---
Previews:
Oyonnax v Rugby Club Toulonnais
Stade Charles-Mathon, Oyonnax
The newboys face the new giants of Europe. But don't expect a mudslide because Oyonnax have claimed handful of big scalps this season (including Clermont and Castres) while Toulon have not always been convincing on the road.
Oyonnax are coming off a one-point loss to Stade Français while Toulon had to battle their way past Bayonne last week.
Veteran former Springbok flank Juan Smith is already crocked, just days after making his comeback. His troublesome Achilles is fine but he now has an adductor muscle issue. But Wallaby wing Drew Mitchell will make his first start in a backline that features the return of fellow Aussie Matt Giteau.
Oyonnax: 15 Florian Denos, 14 Silvere Tian, 13 Pierre Aguillon, 12 Hemani Paea, 11 Jonathan Bousquet, 10 Benjamin Urdapilleta, 9 Agustin Figuerola, 8 Viliami Maafu, 7 Valentin Ursache, 6 Christophe Andre, 5 Damian Browne, 4 Thibault Lassalle, 3 Marc Clerc, 2 Jody Jenneker, 1 Lukas Rapant.
Replacements: 16 Neil Clark, 17 Clement Baiocco, 18 Damien
Lagrange, 19 Scott Newlands, 20 Fabien Cibray, 21 Conrad Barnard, 22 Roimata Pune, 23 Antoine Tichit.
Toulon: 15 Delon Armitage, 14 Drew Mitchell, 13 Mathieu Bastareaud, 12 Matt Giteau, 11 David Smith, 10 Jonny Wilkinson, 9 Michael Claassens, 8 Chris Masoe, 7 Danie Rossouw, 6 Virgile Bruni, 5 Ali Williams, 4 Bakkies Botha, 3 Carl Hayman, 2 Benjamin Noirot, 1 Andrew Sheridan.
Replacements: 16 Jean charles Orioli, 17 Xavier Chiocci, 18 Konstantine Mikautadze, 19 Joe van Niekerk, 20 Maxime Mermoz, 21 Josua Tuisova, 22 Alexis Palisson, 23 Martin Castrogiovanni.
Previous result: Oyonnax 33-22 Toulon (D2, 2008)
Prediction: The leader to win again. Toulon by seven points
Kick-off: 14:55 local
Referee: Romain Poite
---
Aviron Bayonnais v Biarritz Olympique
Stade Jean Dauger, Bayonne
The first Basque derby of the season couldn't have taken place in more of a pressure-cooker situation.
Biarritz have won just one game in seven starts and are gagging to take revenge for the one-point loss at home to their neighbours in the last version of this local rivalry.
Just one point separated these sides in their last 160 minutes of battle so it's a save bet we're in for another close one.
Bayonne: 15 Scott Spedding, 14 Martin Bustos Moyano, 13 Joe Rokocoko, 12 Manu Ahotaeiloa, 11 Marvin O'Connor, 10 Stephen Brett, 9 Mike Phillips, 8 Opeti Fonua, 7 Julien Puricelli, 6 Dwayne Haare, 5 Lisiate Faaoso, 4 Abdellatif Boutaty, 3 Nemiah Tialata, 2 David Roumieu, 1 JC Janse van Rensburg.
Replacements: 16 Gregory Arganese, 17 Gert Muller, 18 Mark Chisholm, 19 Jean Monribot, 20 Sam Gerber, 21 Matthieu Ugalde, 22 Guillaume Rouet, 23 Vitolio Manukula.
Biarritz: 15 Paul Couet Lannes, 14 Takudzwa Ngwenya, 13 Seremaia Burotu, 12 Damien Traille, 11 Joe Pietersen, 10 Daniel Waenga, 9 Luix Roussarie, 8 Ueleni Fono, 7 Tanguy Molcard, 6 Joshua Furno, 5 Pelu Taele, 4 Erik Lund, 3 Francisco Gomez Kodela, 2 Jean Philippe Genevois, 1 Alexandre Menini,
Replacements: 16 Romain Ruffenach, 17 Thomas Synaeghel, 18 Addison Lockley, 19 Imanol Harinordoquy, 20 Yann Lesgourgues, 21 Benoit Baby, 22 Julien Peyrelongue, 23 Eugene van Staden.
Results last season: Bayonne 6-6 Biarritz; Biarritz 15-16 Bayonne
Prediction: We predict...a fight! Bayonne to edge an almighty battle by les than seven.
Kick-off: 18:30 local
Referee: Christophe Berdos
---
Castres Olympique v Racing Métro 92
Stade Pierre Antoine, Castres
Racing coaches Laurent Labit and Laurent Travers return to Castres for the first time since leading CO to the title last season.
Castres have won four of the last five games between these sides but Racing are coming off a three-game winning streak that includes victory on the road to Bayonne.
Castres have conceded just seven tries in as many games while Racing have only scored a total of eight.
Castres: 15 Brice Dulin, 14 Romain Martial, 13 Romain Cabannes, 12 Remi Lamerat, 11 Marcel Garvey, 10 Remi Tales, 9 Rory Kockott, 8 Antonie Claassen, 7 Yannick Caballero, 6 Jan de bruin Bornman, 5 Richard Gray, 4 Christophe Samson, 3 Anton Peikrishvili, 2 Brice Mach, 1 Yannick Forestier.
Replacements: 16 Mathieu Bonello, 17 Mihaita Lazar, 18 Benjamin Desroche, 19 Pedrie Wannenburg, 20 Julien Tomas, 21 Seremaia Bai, 22 Paul Bonnefond, 23 Michael Coetzee.
Racing Métro:15 Benjamin Lapeyre, 14 Virimi Vakatawa, 13 Henry Chavancy, 12 Alexandre Dumoulin, 11 Marc Andreu, 10 Jonathan Sexton, 9 Maxime Machenaud, 8 Jacques Cronje, 7 Antoine Battut, 6 Wenceslas Lauret, 5 Francois van der Merwe, 4 Karim Ghezal, 3 Luc Ducalcon, 2 Virgile Lacombe, 1 Davit Khinchagishvili,
Replacements: 16 Dimitri Szarzewski, 17 Eddy Ben Arous, 18 Jone Qovu, 19 Fabrice Metz, 20 Bernard le Roux, 21 Sebastien Descons, 22 Fabrice Estebanez, 23 Brian Mujati.
Results last season: Castres 31-10 Racing Metro; Racing Metro 29-28 Castres
Prediction: Home win. Castres by eight points
Kick-off: 18:30 local
Referee: Sébastien Clouté
---
FC Grenoble v CA Brive-Corrèze
Stade Lesdiguières, Grenoble
Brive face a tricky trip to a team that has proved very good on home soil.
Grenoble have made four changes to the side that beat Perpignan at home last week.
Grenoble:15 Fabien Gengenbacher, 14 Benjamin Thiery, 13 Rudolf Coetzee, 12 Geoffroy Messina, 11 Julien Caminati, 10 Blair Stewart, 9 Valentin Courrent, 8 Florian Faure, 7 Jonathan Best, 6 Roland Bernard, 5 Andrew Farley, 4 Hendrik Roodt, 3 Dayna Edwards, 2 Vincent Campo castillo, 1 Kenan Mutapcic.
Replacements: 16 Romain David, 17 Anthony Hegarty, 18 Naude Beukes, 19 Cedric Beal, 20 Benjamin Hand, 21 Ratu Ratini, 22 James Hart, 23 Albertus Buckle.
Brive:15 Gaetan Germain, 14 Guillaume Namy, 13 Arnaud Mignardi, 12 Thomas Laranjeira, 11 Alfifeleti Mafi, 10 Riaan Swanepoel, 9 Thomas Sanchou, 8 Sisa Koyamaibole, 7 Tjiuee Uanivi, 6 Said Hireche, 5 Olivier Caisso, 4 Julien Ledevedec, 3 Tamato Leupolu, 2 Guillaume Ribes, 1 Karlen Asieshvili,
Replacements: 16 Francois da Ros, 17 Johannes Coetzee, 18 Arnaud Mela, 19 Kieran Murphy, 20 Damien Neveu, 21 Romain Sola, 22 Andrew Mailei, 23 Kevin Buys.
Previous result: Grenoble 23-28 Brive (2004)
Prediction: Home win. Grenoble by ten points
Kick-off: 18:30 local
Referee: Alexandre Ruiz
---
USA Perpignan v Stade Toulousain
Stade Aimé Giral, Perpignan
Perpignan has not been a happy hunting ground for Toulouse: In 14 years of travelling to Catalonia, les Toulousains are have claimed just one victory - back in 2011.
But the big red machine has started to roll in the right direction after a poor start to the season though and a convincing, bonus-point win over Castres would have a come as morale-booster for Guy Novès's troops.
Toulouse have made no less than ten changes to their starting team. Only Poitrenaud, Fickou, Galan, Nyanga and Maestri keep their places.
Perpignan:15 James Hook, 14 Watisoni Votu, 13 Tommaso Benvenuti, 12 Sione Piukala, 11 Sofiane Guitoune, 10 Camille Lopez, 9 Nicolas Durand, 8 Daniel Leo, 7 Alasdair Strokosch, 6 Justin Purll, 5 Romain Taofifenua, 4 Sebastien Vahaamahina, 3 Giorge Jgenti, 2 Guilhem Guirado, 1 Kisi Pulu,
Replacements: 16 Romain Terrain, 17 Sebastien Taofifenua, 18 Guillaume Vilaceca, 19 Luke Narraway, 20 Dewaldt Duvenage, 21 Jean Pierre Perez, 22 Joffrey Michel, 23 Paulica Ion.
Toulouse:15 Clement Poitrenaud, 14 Timoci Matanavou, 13 Yann David, 12 Gael Fickou, 11 Yves Donguy, 10 Lionel Beauxis, 9 Sebastien Bezy, 8 Gillian Galan, 7 Yacouba Camara, 6 Yannick Nyanga, 5 Yoann Maestri, 4 Romain Millo Chlusky, 3 Yohan Montes, 2 Martin van der Heever, 1 Cyril Baille,
Replacements: 16 Christopher Tolofua, 17 Schalk Ferreira, 18 Joe Tekori, 19 Gregory Lamboley, 20 Jean Marc Doussain, 21 Luke Mcalister, 22 Hosea Gear, 23 Census Johnston.
Results last season: Toulouse 18-19 Perpignan; Perpignan 34-20 Toulouse
Prediction: Home win. Perpignan by nine points
Kick-off: 20.35 local
Referee: Patrick Péchambert
---
ASM Clermont Auvergne v Union Bordeaux-Bègles
Parc des Sports Marcel Michelin, Clermont Ferrand
Clermont won this game by 64 points last season, so no one is expecting UBB to break les Jaunards long unbeaten streak on home soil. Indeed, the last Bordelo-Béglais victory in the Auvergne dates back to 1993.
The big news of the week is that assistant coach Franck Azema and Leinster coach Jono Gibbes are reportedly set to lead Clermont next season.
Team news to follow...
Results last season: Clermont 67-3 Bordeaux; Bordeaux 24-28 Clermont
Prediction: No Mystery here. Clermont to win with a bonus point.
Kick-off: 12:30 local
Referee: Laurent Cardona