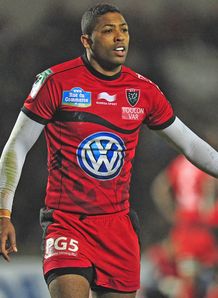 Toulon coach Bernard Laporte blasted as "stupid" the constant barrage of jeers aimed at full-back Delon Armitage for a controversial gesture he made during last season's European Cup final.
Armitage was widely criticised for waving at Clermont's Brock James as he scored a try in Toulon's 16-15 victory over their French rivals in the final of the European showpiece and has been regularly booed since.
"I can't accept this whistling and I will not accept it even if he wasn't a Toulon player," said Laporte.
"It beats me, it's stupid. Everyone remembers the gesture but nobody talks about the Clermont player who patted him on the head after he scored the try.
"I won't say who that was as I like him but I'd like to see him get jeered too."
Armitage's team-mates have defended the England international.
"I think Delon is quite detached from the whistles because he has even been criticised in his own country," said Toulon centre Maxime Mermoz.