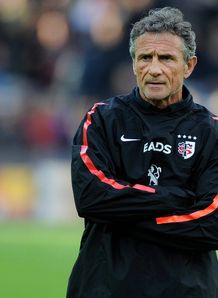 Related links
Also see
Toulouse head coach Guy Novès said his side must "react quickly" if they are to recover from Sunday's dismal 25-0 loss to Montpellier in the Top 14.
The long-time boss called his side's performance a "kind of non-match" lacking any commitment as they were well beaten at Stade Yves du Manoir.
"We tried to run it round too much in the first half in a bid to cause Montpellier problems," Novès said.
"We reacted, to a degree, in the second-half, but we conceded two tries and were punished. The score perfectly reflects the match."
Novès added: "We'll have to learn our lessons from this and acknowledge that it's increasingly tough. We have to react quickly.
"Not scoring any points (for the first time since 2008) is not important because we could have kicked some penalties."
Montpellier coach Mario Ledesma, the former Argentina international, was of course delighted with the result.
"We had a series of three complicated matches," he said. "And we did not expect to take an attacking bonus point from Toulouse."