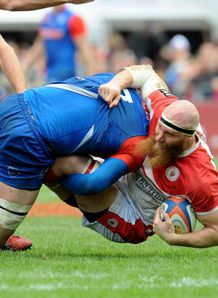 Grenoble will try to revive their fading Top 14 play-off hopes when they visit Parc des Sports d'Aguilera in Biarritz on Friday.
The long-time surprise holders of a top six berth have gone off the boil in dramatic fashion as six losses from their last seven games have seen Grenoble drop to eight in the standings, ten points short of European and play-off qualification and just two ahead of Biarritz.
This is in fact a crucial clash to see who finishes seventh, which could be a Heineken Cup qualifying berth if a French team wins the title
In three attempts, Grenoble have never won in Biarritz, but on Friday they face a team devastated by a raft of injuries and illness to key players. Most alarming amongst those are Julien Peyrelongue and Benoit Guyot, who have been quarantined with suspected mumps.
Biarritz battled to a narrow win over high-flying Clermont last week but have been forced into a number of changes including at full-back where Marcelo Bosch starts and at fly-half with Jean-Pascal Barraque taking over from Peyrelongue.
Grenoble have won just once away from home this season, on day one in Bordeaux, and will arrive with a much-changed team. Scrum-half Valentin Courrent, fly-half Blair Stewart, full-back Fabien Gengenbacher, lock Ben Hand, loose forward Jonathan Best and hooker Anthony Hergaty will not travel west.
Wing Lucas Dupont returns for his first game since February while James Hart could start at fly-half.
Barritz: 15 Marcelo Bosch, 14 Takudzwa Ngwenya, 13 Benoit Baby, 12 Damien Traille, 11 Thomas, 10 Jean-Pascal Barraque, 9 Dimitri Yachvili, 8 Imanol Harinordoquy, 7 Raphael Lakafia, 6 Thibault Dubarry, 5 Mathias Marie, 4 Erik Lund, 3 Benedict Broster, 2 Benoit, 1 Thomas Synaeghel
Replacements: 16 Arnaud Heguy, 17 Eugene Van staden, 18 Francisco Gomez Kodela , 19 Molcard, 20 Burotu 21 Yann Lesgourgues, 22 Gimenez, 23 Couet-Lannes.
Grenoble: 15 Joaquin Tuculet, 14 Viliame Waqaseduadua, 13 Aloisio Butonidualevu, 12 Rida Jaouher, 11 Lucas Dupont, 10 Jonathan Pelissie, 9 James Hart, 8 Shaun Sowerby, 7 Fabien Alexandre, 6 Roland Bernard, 5 Florent Fourcade, 4 Andrew Farley, 3 Dayna Edwards, 2 Vincent Campo castillo, 1 Romain David.
Replacements: 16 Erwan Iapteff, 17 Albertus Buckle, 18 Cyril Veyret, 19 Flavien Nouhaillaguet, 20 Nicolas Laharrague, 21 Aaron Bancroft, 22 Florian Ninard, 23 Gregory Fabro.
Previous result: Grenoble won 34-21
Venue: Parc des Sports d'Aguilera, Biarritz
Kick-off: 19:00 (18.00 GMT)
Referee: Salem Attalah