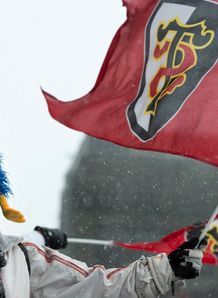 It is that time of the week again when 'Orrible Punt sits down in the Planet Rugby hot-seat to give you his calls. Today, some Top 14 and LV= Cup.
Remember you can contact Russ with all your comments and questions on Twitter - @rpetty80.
Click here to compare odds on Rugby Union with Oddschecker.com!
This is a meeting of the 2009 and 2010 Top 14 finalists and a perhaps rare chance to oppose Les Jaunards this season. Perpignan have won 7/15 games so far, by an average score of 23-24, but on closer inspection those 7 wins all came at home where the rate changes to 24-15. Bar a Round 1 defeat to away day specialists Toulon, they are unbeaten in 15 league games on their own patch. Clermont are the bookies favourite for the Heineken Cup and are 2nd in the Top 14 with 12 wins from 15 matches at an average of 25-17. They have beaten Perpignan in 6/8 meetings and go into the match after big wins over Scarlets and Exeter so will likely be heavily backed. A look at their domestic away record however, shows that they have won 4/7 away matches by 17-15, with the victories coming against the bottom 4 sides. Over the past 20 away games, the wins have tended to occur against struggling teams. USAP should prove a tougher match-up and despite that poor head-to-head record, have won 2 of their last 3 home games against Clermont. They did suffer a 3-39 loss in the fixture, but that was part of a dismal run of just 2 wins from 7 home attempts and they are clearly in a better state this time around. Score margins in Clermont's away games have been close, with all of them seeing 8 points or less. I'm on the hosts to win outright at 1.91 and by 1-10 points at 3.0 at Stade Aimé Giral.
In John Daniell's book about life playing French rugby, he raises the concepts of 'l'esprit de clocher', of collective duty to the shirt and surrounding area , of 'terroir' and the idea that you try to win away, but you win home games. Look no further than Stade Francais for a side that represents those beliefs. They have only lost 1 of their last 20 league games at home (against Toulouse) yet lost 18/20 away games in that same period. This season they have won 6 and draw 1 matches on their own turf by an average of 27-19 and lost 7/8 games away by 19-30. Grenoble have won 9/9 home games by a rate of 25-12 and lost 5/6 away by 16-33 so are another side that fit that previously mentioned culture. Now Sitting in 5th position, it's a far cry from the 2004/05 season when Dean Richards and other coaches departed, the players refused to travel to Toulouse and ultimately liquidation occurred. Looking at their away stats, Grenoble have trailed at half-time on all their trips by an average of 10 points. This may point to the hosts on the half-time / full-time market at 1.5. However Stade Francais are actually stronger in the 2nd half, outscoring teams at home in 6/7 games, by an average of 7 points. The 2nd half handicap of -5 points would have covered in 5/7 games for Stade and in 4/6 of the visitors' away games, so that is where I've headed.
For Toulouse, failure to reach the Heineken Cup quarter-finals stage is a rare occurrence. It is understandable then, if coach Guy Novès wasn't aware his side were now in the Amlin Challenge Cup knockout stage and stated full concentration would be on domestic matters. That may invite some backing for their opponents Perpignan to win the secondary European tournament at a decent price of 9.0. In the Top 14, Toulouse have won 11/15 games this season by an average of 28-18 and all 7 home games by 35-16. A look back at previous seasons, reveals they've been victorious in the previous 39 league matches there by a rate of 32-15. They have beaten Friday's opposition, Biarritz, in the last 3 meetings there by an average score of 23-7. The Basque side have won 8 of their 15 league games this season by 19-19 and lost 5/7 away games by 18-24. Over the past 2 seasons, they have only won 5/21 away matches and those were to Agen, Lyon, Mont-de-Marsan and the like. I am expecting Toulouse and specifically number ten Lionel Beauxis, to make up for leaving plenty of points on the field last week against Leicester Tigers and cover the -13 handicap.
There was a great expression of frustration from the Quins management after the recent league meeting with London Welsh, so I think they'll be motivated for this one. I will take the hosts at -13. Bath have 5 wins and a draw to show from their Premiership meetings with Exeter by an average score of 18-14. The home games have seen scores of 23-15, 23-19 and 26-18. The Chiefs have lost 5/6 away games in the league by a rate of 19-24 which is in line with their scores at the Rec, so I will back the hosts by 1-10 points. Saints have tended to bounce back from disappointing losses this season and have also made it clear they are targeting a semi-final place. Ben Foden, Lee Dickson and Phil Dowson all featured against Scotland last year but are down the international pecking order now and will surely have points to prove. Gloucester are without Freddie Burns who has accounted for 185 of their 297 league points and may be lacking too many of their influential players to pick up the win. That handicap of-10 looks a bit big but I can see Saints just covering it. Wasps are without their regular try machines on the wings and have named a youthful side. They have lost on 20/22 league trips to Welford Road and the Tigers should prove too strong, even with a -17 point handicap. Dan Bowden has a chance to put down a marker with George Ford's going elsewhere and I'm expecting Verenika Goneva and Tom Croft to cause plenty of problems.
Click here to compare odds on Rugby Union with Oddschecker.com!