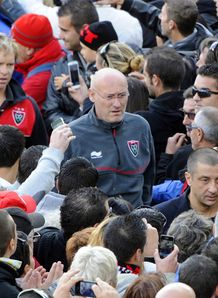 Top 14 leaders Toulon enter the second half of the season with coach Bernard Laporte calling for more of the same from his men.
The multi-talented Mediterranean side are currently on a roll that saw them defeat bogey side Agen 15-9 away last weekend.
That put them seven points clear of second-placed Clermont with reigning champions Toulouse trailing a further two points back.
On paper the visit of seventh-place Perpignan to the Stade Mayol on Sunday should not be cause for too much concern, but Laporte is wary.
"We have finished on top in the first half of the season, but that is far from an end to the matter," he said.
"What matters most now is to stay top in the second half of the season. That is what we are aiming to do and we have a favourable fixture list as we have eight home games out of 13.
"We will look to go on the attack against Perpignan, but when you look at the squad they have, they are a very good team and we need to take them very seriously indeed."
Back into the mix for Toulon come international winger Alexis Palisson, who has been sidelined with a back injury since early October, and back-to-form fly-half Frederic Michalak, who was rested last weekend after his fine performances in France's November Test matches.
Meanwhile, Australian hooker Anthony Hegarty signed a one-year extension to his contract with Grenoble.
Hegarty arrived at the club from Super 15 side Brumbies last summer on a deal until 2014.
The 25-year-old's new agreement will see him remain at Grenoble until the 2014-2015 season.