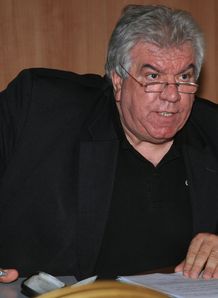 Perpignan president Paul Goze was elected as head of the French National Rugby League (LNR) which runs the professional game in France.
61-year-old Goze received a four-year mandate as head of the body that manages the Top 14 and Pro D2 divisions, succeeding Pierre-Yves Revol, who was elected in 2008 to take over from former France full-back Serge Blanco (1998-2008).
Goze, a former lock for Perpignan who has been club president twice, guided the Catalan side to the league title in 2009 - its first since 1955.
He also pulled off one of the biggest transfer coups in recent times, signing New Zealand fly-half Dan Carter, although the All Blacks playmaker's on-field role in France was severely curtailed through injury.
Goze, who runs an estate agency, is known to favour expanding the Top 14 to a 16-team competition.
Taking over at a time when the Top 14 is considered one of the best domestic leagues in world rugby, Goze will also have to tackle questions over French participation in European cup competitions, amid concerns over structures and television rights.
French teams and their English counterparts believe the European Cup's current format is weighted in favour of the Celtic nations as Irish provinces Leinster and Munster have won five of the last seven editions between them.
Leinster have won three of the last four European Cups and their rivals in England and France claim that is partly a result of a qualification system that allows them to rest their players during the Celtic Pro12 season.