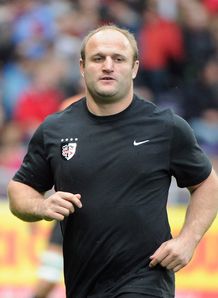 Toulouse manger Guy Novès was able to leave the Stade de France in a positive mood despite his team's narrow loss to Stade Français on Saturday.
Italian captain Sergio Parisse inspired Stade Français to a morale-boosting 28-24 victory by scoring his second try from long distance in the dying minutes.
The French champions sent out a much-changed side featuring forwards coach Williams Servat as their starting hooker and 20-year-old Sebastien Bezy at 10.
Toulouse were forced to throw former France hooker Servat into the run-on side in the wake of a spate of injuries, Christopher Tolofua's suspension and Gary Botha's late withdrawal due to illness.
"I can't say I'm delighted because we lost the match...but we can take with a number of positives," said Novès.
"Firstly, we rediscovered a young hooker who can hang on for one half," joked the manager, referring to 33-year-old Servat's barnstorming display in the first 40 minutes.
"We had a number of young players on the field: two number eights (Edwin Maka scored a try) and a youngster who is used to playing at scrum-half who did us a favour at fly-half.
"There are very good things on which we can build."
Novès said that three missed chances of scoring a try in the second-half had been costly, but believed Stade's second try by Jerome Fillol should not have been awarded.
"Paris really put their foot down at the end of the game," he said.
"It is a pity about their try which got them back on equal terms as there was a forward pass by five metres but the referee was five metres behind play. We shouldn't have a go at him, but he needs to work on his fitness. That try was important in the context of the game."
Stade captain Pascal Papé said that they had never given up hope even when they trailed at half-time.
"It is not every day that you beat the great Toulouse, champions of France," said the France lock.