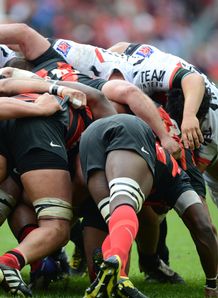 Toulouse president Jean-Rene Bouscatel says the French champions are not intimidated as they prepare to take on runaway Top 14 leaders Toulon this weekend in a rematch of last season's final.
"Toulon are impressive, but we're not impressed too much," joked Bouscatel about Toulon, who are unbeaten in their first six matches.
The Toulouse chief expressed admiration for his side's title rivals, but warned that it was too early to draw conclusions about the race for the Top 14 crown.
"We are amazed by such high-class individuals. It seems that this year things are starting to gel," he told AFP.
"They have definitely got the best start, but the championship is long. They're a team who, like four or five others, have the weapons to go all the way. But do not forget Racing, Castres and Clermont."
Toulouse are seven points behind Toulon after six games.
"Whenever we lose a game, we're used to hearing that a crisis is brewing," said Bouscatel.
"Well, actually, it's been 20 years since we last had a crisis, but we can't stop people thinking what they want.
"Honestly, I was not more worried after we lost to Perpignan (20-34) any more than I'm reassured after our 35-6 win over Bayonne.
"You have to keep your head, which I've been trying to do for several years, and I have to say that this has worked quite well for us."