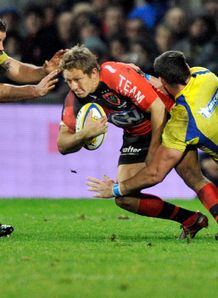 Related links
Also see
And then there were four. Castres visit the Stadium de Toulouse to face the defending champions on Saturday before Clermont clash with Toulon at the same venue on Sunday.
As was the case in Marseille last year, both Top 14 semi-finals will be played on the same field. There are sure to be no complaints from les Toulousains about the choice of venue, unlike in Clermont where supporters have been up in arms about the lack of tickets made available to the travelling Ultras Vulcans.
But actually the controversial subject in France these days has been discipline, or more precisely, disciplinary hearings. There were a few raised eyebrows when Toulouse lock Yoann Maestri and Montpellier loose forward Mamuka Gorgodze escaped sanction for their dust up on the eve of the play-offs and a real stink has erupted after Castres lock Joe Tekori was cleared to play on Saturday despite being shown a red card last weekend.
Bernard Laporte reckons if the Samoan "had been a Toulon player, he would have been banned for four months." In his latest dummy-spit at the French authorities, the Toulon manager equated the LNR disciplinary committee to a "slapstick comedy" and said players were being made a fool of by their "farce."
There is a fair amount of bad blood between Toulon and Clermont already, so don't be surprised if a few more citings make the headlines on Monday.
---
Stade Toulousain v Castres Olympique
Stadium de Toulouse
It's been 11 years since Castres last made the semi-finals, when they were beaten by - you guessed it - Toulouse.
The current crop of CO players are however less concerned with history than with making up for the near misses of the last two years when they failed to convert strong seasons into victory in the play-offs.
"We've been waiting for this day for a year," said co-coach Laurent Labit after beating Montpellier last week, adding that his team had learnt from their mistakes of the past.
Speaking of building on the past, Toulouse are just one game away from returning to Paris for a chance to defend their title and claim a 19th Bouclier de Brennus.
Manager Guy Novès is very good at not counting his chickens before they've crossed the try-line and the inconsistent form of his side will have the iconic coach worried. Toulouse have not been able to string consecutive wins together since mid-February.
Unlike previous years when the big red and black machine has gained momentum in the closing stages of the season, this weekend's hosts have hit many a false note in the last month or two and even in victory, have flattered to deceive.
That said, Toulouse did enough to retain top spot in the standings - which they held for the last sixteen rounds - and will start as overwhelming favourites on home soil.
Indeed, Castres' record in the Ville Rose is not a happy one, with just a single win (in 1979) and a draw (in 1949) in the last 18 visits to their neighbours. Les Tarnais will not take any comfort in the fact that this will be Toulouse's 19th consecutive semi-final.
All the pressure will thus be on Toulouse, especially after their failure to make it past the quarter-finals in Europe.
And Castres will look to apply the pressure up front, with their hard-hitting pack and ultra-efficient set piece combined with the kicking threats of metronomic Romain Teulet and Pierre Bernard. The clinical method in which Montpellier were dispatched in the play-offs will certainly give the visiting fans hope.
The big talking point in Toulouse is whether William Servat will play. The veteran hooker hasn't featured since Round 23 due to an ankle injury but did go on the champs' training camp. The Toulouse front-row has suffered in his absence and les rouge et noirs will be desperate to have him back.
The teams:
Toulouse: 15 Clément Poitrenaud, 14 Vincent Clerc, 13 Florian Fritz, 12 Luke McAlister, 11 Timoci Matanavou, 10 Lionel Beauxis, 9 Jean-Marc Doussain, 8 Thierry Dusautoir, 7 Louis Picamoles, 6 Jean Bouilhou, 5 Patricio Albacete, 4 Yoann Maestri, 3 Census Johnston, 2 William Servat, 1 Jean-Baptiste Poux.
Replacements: 16 Christopher Tolofua, 17 Gurthro Steenkamp, 18 Romain Millo-Chluski, 19 Grégory Lamboley, 20 Luke Burgess, 21 Yann David, 22 Yannick Jauzion, 23 Yohan Montès.
Castres: 15 Romain Teulet, 14 Romain Martial, 13 Max Evans, 12 Romain Cabannes, 11 Marc Andreu, 10 Pierre Bernard, 9 Thierry Lacrampe, 8 Yannick Caballero, 7 Matemini Masoe, 6 Ibrahim Diarra, 5 Joe Tekori, 4 Matthias Rolland, 3 Luc Ducalcon, 2 Mathieu Bonello, 1 Yannick Forestier.
Replacements: 16 Marc Antoine Tallier, 17 Saimone Taumoepeau, 18 Rodrigo Capo Ortega, 19 Jannie Bornman, 20 Rory Kockott, 21 Seremaia Baï, 22 Thomas Sanchou, 23 Karena Wihongi.
Previous results: Castres won 24-3 at home; Toulouse won 34-27 at home.
Prediction: Castres have been very effective but you can't argue with hosts' track record. Toulouse by eight points!
Date: Saturday, June 2
Kick-off: 20.45 (18.45 GMT)
Referee: Jérôme Garces
---
ASM Clermont Auvergne v RC Toulonnais
Stadium de Toulouse
This clash has revenge written all over it. Two years ago, Clermont knocked Toulon out, in extra time, thanks to a few controversial refereeing decisions. That loss has left a chip on the Varois' shoulders.
After being handed a rugby lesson at home in the early stages of this season, RCT travelled to Clermont-Ferrand in January for an almighty clash that saw a huge punch up and another controversial win for les Jaunards.
Toulon owner Mourad Boudjellal - who landed himself in hot water when he lashed out at the referees in France after that defeat - has made headlines again by saying his team have "no chance" of victory over Clermont on Sunday.
"We have no chance of winning it," said the comic magazine magnate.
"A victory would more than an exploit. Toulon is far from being favourite while Clermont have shone all season. Come Sunday, we have nothing to lose.
"No matter what you say, Clermont are in a different economic league than us."
No one doubts that the super-ambitious Boudjellal is just playing up to the press. Toulon's star-studded squad has quality throughout and Boudjellal has long promised to bring silverware to the rugby-mad town which has been waiting 20 years since their last championship title back in 1992.
Clermont scrum-half Morgan Parra warned that Toulon's stars would not be pushovers.
"We fear this Toulon side, they're an opponent which is really tough to beat," said the French international.
"We already played them in 2010 at this stage of the competition - it brings back some memories, even if the context is different today.
"But Toulon are an aggressive team in contact, very strong on the deck and up front. They also rely a lot on their stand-out players like Giteau, Wilkinson and Bakkies Botha.
"Players like that are masters of playing in finals. They'll be ready for this type of game."
Having lost the Amlin Challenge Cup Final to Biarritz a week earlier, Toulon were forced to come back from 13-0 down to beat Racing-Métro in the play-offs last weekend.
If nothing else, that game showed the depth of the Toulon squad and strength of the their character as Matt Giteau took over the kicking tee from Jonny Wilkinson while David Smith and Steffon Armitage provided the magic for the winning try.
Nevertheless, a series of boring performances over the past month or so has seen a number a questions raised over Toulon's ability to produce the goods against big teams. If even their was a team able to punish sub-standard opposition, it's Clermont.
The 2010 champions have been in blistering form and came within inches - quite literally - of a place in the Heineken Cup Final.
Clermont have contested the last four finals and with most of their first-choice players having had three weeks rest, there should be no lack a zip in the ASM attack.
Fly-half David Skrela is set to return for Clermont, after nearly two months on the sidelines with a thigh injury, after coming through contact training this week without a problem. Thomas Domingo starts.
Toulon will be without former All Black prop Carl Hayman, who is serving a four-week ban for a tip tackle.
Clermont: 15 Jean-Marcel Buttin , 14 Nao Nakaitaci, 13 Aurélien Rougerie, 12 Wesley Fofana, 11 Sitiveni Sivivatu, 10 Brock James, 9 Morgan Parra, 8 Julien Bonnaire, 7 Alexandre Lapandry, 6 Julien Bardy, 5 Nathan Hines, 4 Jamie Cudmore, 3 Davit Zirakashvili, 2 Benjamin Kayser, 1 Thomas Domingo.
Replacements: 16 Ti'i Paulo, 17 Vincent Debaty, 18 Julien Pierre, 19 Elvis Vermeulen 20 Ludovic Radoslavjevic , 21 David Skrela, 22 Lee Byrne, 23 Daniel Kotze
Toulon:15 Luke Rooney, 14 Alexis Palisson, 13 Mathieu Bastareaud, 12 Matthew Giteau, 11 David Smith, 10 Jonathan Wilkinson, 9 Sebastien Tillous Borde, 8 Juan Martin Fernandez Lobbe, 7 Steffon Armitage, 6 Joe van Niekerk, 5 Simon Shaw, 4 Bakkies Botha, 3 Davit Kubriashvili, 2 Jean Charles Orioli, 1 Eifion Lewis Roberts.
Replacements:16 Mickael Ivaldi, 17 Laurent Emmanuelli, 18 Christophe Samson, 19 Pierrick Gunther, 20 Geoffroy Messina, 21 Benjamin Lapeyre, 22 Fabien Cibray, 23 Levan Chilachava.
Previous results: Clermont won 17-0 in Toulon and 25-19 at home.
Prediction: There are probably only one or two teams in Europe capable of beating Clermont and on current form, Toulon don't fall in that catergory. Clermont by ten points!
Date: Sunday, June 3
Kick-off: 16.30 (14.30 GMT)
Referee: Pascal Gauzere