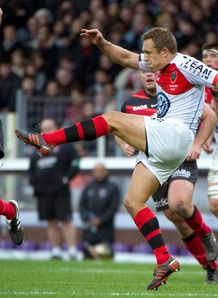 Related links
Also see
There are just two rounds of the regular season left to play as Toulon host leaders Toulouse while Racing Metro and Stade Français face off in the Paris derby.
There will be much more than pride at stake in the capital with the local rivals separated by just two points in the race for the final play-off berth.
The most important clashes of the weekend could be at the other end of the table however as Bordeaux-Begles and Brive go head-to-head, with the loser facing the possibility of dropping into the relegation zone.
Bayonne face a must-win clash at home to Agen while Perpignan will look to secure their survival against already-relegated Lyon.
Biarritz need just a few more points to be sure of safety but they shouldn't bank on getting any in the weekend's opening fixture in Montpellier on Friday.
Elsewhere, Castres are still chasing a home play-off but are faced with tough task against a Clermont side hunting the top spot in the standings.
Fixtures:
Friday, May 4
Montpellier v Biarritz
Saturday, May 5
Toulon v Toulouse
Bayonne v Agen
Brive v Bordeaux-Bègles
Castres v Clermont
Perpignan v Lyon
Racing Métro v Stade Français
Standings:
1. Toulouse 82
2. Clermont 82
3. Toulon 65
4. Montpellier 62
5. Castres 61
6. Racing Metro 59
7. Stade Francais 57
8. Agen 48
9. Biarritz 47
10. Perpignan 45
11. Bordeaux-Begles 45
12. Brive 42
13. Bayonne 42
14. Lyon 31

---
Previews:
Montpellier HR v Biarritz Olympique
Stade Yves Du Manoir, Montpellier
Biarritz could take a giant step closer to survival on Friday but the smart money will be on fourth-placed Montpellier moving towards a home play-off instead.
Indeed, Montpol have had a very strong second half of the season but will need a big result this weekend if they are to book a home quarter-final as they must travel to Toulouse next week.
The visitors - who have lost on their last three visits to the Herault - will be without hugely influential captain Imanol Harinordoquy, who missed last week's Challenge Cup victory over Brive and is again ruled out with a knee injury.
A sign that Biarritz might be keeping their powder dry for the Challenge Cup final and their final round fixture against Stade Français is the sight of Dimitri Yachvili amongst the replacements. Yann Lesgourgues will wear the number nine jersey.
Montpellier have been boosted by the return of Georgian charger Mamuka Gorgodze.
Montpellier: Amorosino, Nagusa, Doumayrou, Fernandez, Bustos Moyano, Trinh-Duc, J.Tomas, Gorgodze, Tulou, Ouedraogo (c), Privat, Hancke, Jgenti, Creevy, Figallo.
Replacements: Van Vuuren, Leleimalefaga, De Marco, Martin, Escande, Combezou, P.Bosch, Bustos
Biarritz: Bosch, Ngwenya, C Gimenez, D Traille (capt), B Baby; J Peyrelongue, Y Lesgourgues; F Barcella, B August, F Gomez Kodela, J Thion, P Taele, T Gray, W Lauret, R Lakafia
Replacements:A Heguy, Y Watremez, E Lund, B Guyot, D Yachvili, J-P Barraque, S Burotu, E van Staden
Previous result Montpellier won 30-23 in Biarritz
Prediction: Biarritz will still be feeling the effects of their ill-tempered ACC semi-final with Brive. The fresher hosts look a safe bet. Montpellier by ten points.
Kick-off: 20.45 (18.45 GMT)
Referee: Sébastien Cloute
---
RC Toulon v Stade Toulousain
Stade Felix Mayol, Toulon
Toulouse have held the championship lead for 15 rounds but a dip in their late season form has seen the defending champs lose five of their last eight games in all competitions, allowing Clermont to draw level at the top of the standings.
Despite already being qualified for the semi-finals, there is no doubt that Toulouse will want to take momentum into the knockout stages and Guy Novès has vowed to line up a competitive team this weekend.
For Toulon, there is far more to play for as victory should be enough to ensure a home play-off. Bernard Laporte's team are still on track for a Challenge Cup-Top 14 double despite failing to convince in their recent outings.
Indeed, RCT will have to improve on their poor discipline that allowed Castres to make a comeback in their last home clash and snatch a draw which left Toulon winless in their last three Top 14 games.
Luke McAlister is a doubtful starter for Toulouse, who welcomed back Rupeni Caucaunibuca, Romain Millo-Chluski and Gurthro Steenkamp to training this week. Wing Timoci Matanavou is in Fiji for personal reasons.
Toulon will be without centre Mathieu Bastareaud, who has a hand injury.
Previous result: Toulouse won 33-12 at home
Prediction: Toulouse have lost on their last three visits to Stade Mayol. Toulon by five points.
Kick-off: 14.15 (13.15 GMT)
Referee: Laurent Cardona
---
Aviron Bayonnais v SU Agen
Stade Jean Dauger, Bayonne
The equation is simple for Bayonne: they must win. With an away game to Castres - who are near unbeatable at home - next week, a loss for the Basques on Saturday will mean relegation is on the cards.
Bayonne might even need a bonus point to climb ahead of Brive and out of the relegation zone. L'Aviron bounced back from the hiding received in Perpignan to record back-to-back wins over Biarritz and Lyon to keep their hopes alive, so they will fancy their chances.
Bayonne centre Lionel Mazars said his team were under no illusion about how hard their outing against Agen will be.
"We'll play at home against a team that, mathematically, still haven't ensured that they'll stay up, even if they're in a very good position to do it," said Mazar.
"Even if Agen have less pressure than us, they'll not gift us anything."
Agen have not had ideal preparation after coaches Christian Lanta and Christophe Deylaud - who will move to Bayonne next season - were axed midweek.
Agen have not won in Bayonne since 2006 and have tasted victory just once in their last five games.
Previous result: Agen won 37-18 at home
Prediction: Agen won't have the same motivation as their hosts. Bayonne by seven points.
Kick-off: 14.15 (13.15 GMT)
Referee: Cédric Marchat
---
CA Brive Corrèze v Union Bordeaux-Bègles
This is true eight-point encounter between two direct rivals in the relegation squabble.
Brive will know this is their last chance to save themselves as a road trip to Clermont on the last day will be considered a mission impossible. Les Corréziens were dominated by Biarritz in the Challenge Cup last week but will take heart from their first-half performance in Toulouse a fortnight ago when they led at the interval.
Bordeaux have a tough home game against Perpignan next week, meaning they too are far from guaranteed any points. They have a three-point cushion on their hosts but are coming off the back of six losses in eight games. UBB have not won on the road since January.
Brive will be without prop Alexandre Barozzi, who has been suspended for two weeks for a headbutt against Biarritz last week.
Previous result: Bordeaux-Bègles won 16-12 at home
Prediction: Brive's display in Toulouse suggests they should be good enough for the win. Brive by a whisker.
Kick-off: 14.15 (13.15 GMT)
Referee: Jérôme Garces
---
Castres Olympique v ASM Clermont Auvergne
Stade Pierre Antoine, Castres
This could be a dress rehearsal for a semi-final a month from now.
Castres are still in the hunt for a home play-off and will be buoyed by their strong performance in Toulon last time out. Clermont have not enjoyed much success in the Tarn over the years having not won at Stade Pierre Antoine since 1998.
Castres full-back Romain "Robocop" Teulet is on the verge of becoming the first player in world rugby to score 3000 points for a single club.
Clermont will look to bounce back from their bruising loss to Leinster in the European Cup semi-finals but will be without five key players: wingers Julien Malzieu and Jean-Marcellin Buttin, full-back Lee Byrne, lock Nathan Hines.
35-year-old Clermont prop Lionel Faure has also announced his retirement at the end of the season
Previous result: Clermont won 33-16 at home
Prediction: Castres's home record is tough to argue with. Castres by less than five points.
Kick-off: 14.15 (13.15 GMT)
Referee: Cyril Lafon
---
USA Perpignan v Lyon Olympique
Stade Aimé Giral, Perpignan
With Lyon already relegated and left with nothing to play for, Perpignan will expect to do the business and secure their survival.
This season has been a nightmare for the 2009 champions, but the Catalans are within touching distance of safety having finally found some form as illustrated by big wins over Bayonne (47-9) and Toulouse (25-10).
USAP have gained at least a losing bonus point in their last seven games. But Perpignan should not count their chickens too soon and will do well to remember their defeat to the ProD2 champions earlier this season.
Previous result: Lyon won 19-12 at home
Prediction: USAP are undefeated in their last six home games. Perpignan by ten points.
Kick-off: 14.15 (13.15 GMT)
Referee: Salem Attalah
---
Racing-Métro 92 v Stade Français Paris
Stade de France, St. Denis (Paris)
The last time these teams met, at the same venue, Stade Français were convincing winners. But Racing are the official hosts this weekend and have not lost a home game to their Parisian rivals since returning to the top division.
Should Racing win at Stade de France on Saturday, they will build up an insurmountable lead of six points over their city neighbours.
But if they lose, Stade will edge ahead and the fight for the final play-off places will go to the wire in the final round of games next week.
Boasting 41 internationals in their respective squads, Racing (22.4 million euros) and Stade (21.3 million euros) enjoy the third and fourth largest Top 14 budgets after Toulouse and Clermont.
Failure to qualify for the play-offs would be seen as highly disappointing for two such big clubs.
"We really want to play this game," said Racing scrum-half Sebastien Descons.
"We're absolutely not thinking about (dropping out of the top six).
"During the season we were far from the qualifying places. We've got ourselves back up there, patiently and without fearing anything.
"We've won matches we should have lost. We can't wait to play. But we'll be in the top six at the end of the season. It just remains to be seen where we finish."
Racing coach Pierre Berbizier will still be without long-term injury victim Benjamin Fall (knee), although the France winger recently made his comeback in the reserves. Jonathan Wisniewski returns for Racing, who have a fully-fit squad to choose from.
Berbizier also welcomes back Lionel Nallet to the team beaten by Biarritz last time out, while Fiji winger Sireli Bobo and scrum-half Mathieu Loree also return.
For Stade's Michael Cheika, Argentine playmaker Felipe Contepomi, France hooker Dimitri Szarzewski, lock Pascal Pape and Italian captain Sergio Parisse will be in the squad for the team that last went down 32-29 to Toulon in the Challenge Cup semi-final.
Julien Dupuy will likely start at the base of the scrum, with George Smith, who played at centre against Toulon, regaining his usual spot in the back row.
Previous result: Stade Français won 29-3 at the Stade de France
Prediction: It will be close, but after their big win earlier this season, we'll back Stade Français.
Kick-off: 16.15 (15.15 GMT)
Referee: Pascal Gauzere