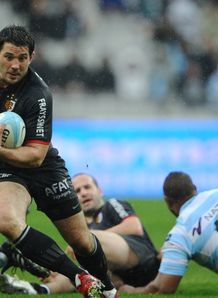 Related links
Also see
Stade Français visit Montpellier on Friday before Racing Métro host Toulouse at the Stade de France in Saturday's standout Top 14 fixture.
Biarritz will be under pressure on the road to Castres while Brive will hope to leapfrog Perpignan and move clear of the relegation zone.
Indeed the bottom end of the table has turned into a real battle ground. Bayonne are in deep trouble and look set for more woe as they travel to Toulon while Lyon have a must-win clash at home to Agen.
Finally, Bordeaux will be hunting another big scalp when they host Clermont.
Fixtures:
Friday, January 27
Montpellier v Stade Français
Saturday, January 28
Brive v Perpignan
Castres v Biarritz
Lyon v Agen
Toulon v Bayonne
Racing-Métro v Toulouse
Bordeaux-Bègles v Clermont
Standings:
1 Toulouse 56
2 Clermont Auvergne 50
3 Toulon 40
4 Castres 40
5 Stade Francais 39
6 Racing Metro 36
7 Agen 36
8 Montpellier 35
9 Bordeaux-Begles 30*
10 Perpignan 27
11 Brive 24
12 Biarritz 23
13 Bayonne 23
14 Lyon 20*
*Game in hand
---
Previews:
Montpellier HR v Stade Français Paris
Stade Yves Du Manoir, Montpellier
Two teams on upward curbs kick-off the weekend's action in what should be an intriguing clash. It's a vital fixture in the race for play-off places with the clubs lying either side of the sixth-place cut-off.
Stade Français have been scoring tries all over the show (32 so far this season) but have the worst defensive record in the league.
Montpellier, by contrast, have only conceded 19 tries in 15 games.
Both teams have won five of their last six matches.
The Parisians' last two visits to the Herault have seen close games with the hosts winning 29-23 last year and 25-23 the year before.
Six Nations internationals Dimitri Szarzewski, Pascal Papé, David Attoub and Sergio Parisse are available for Michael Cheika's team but Felipe Contepomi is doubtful.
Previous result 19-19 draw in Paris
Prediction: If the match in Paris earlier this season is anything to go by, it's set to be close. Stade have not travelled well this season, so we'll back the hosts. Montpellier by less than seven points.
Kick-off: 20.45 (19.45 GMT)
Referee: Romain Poite
---
CA Brive Corrèze v USA Perpignan
Stade Amédée Domenech, Brive
With Brive lying just one point clear of the relegation zone and Perpignan only three points ahead of their hosts, it goes without saying that this clash is crucial for the survival hopes of both clubs.
Brive are in free fall having slipped five championship places in the last eight rounds. The Corrèziens have not tasted victory in seven starts, dating back to late October!
But the hosts will take encouragement from their last two home games against the Catalans after winning 26-11 last year and 29-9 in 2009.
Previous result: Perpignan won 12-9 at home
Prediction: Brive have lost their last four home games so we'll go with the visitors. Perpignan by a whisker
Kick-off: 14.15 (13.15 GMT)
Referee: Christophe Berdos
---
Castres Olympique v Biarritz Olympique
Stade Pierre Antoine, Castres
At first glance, fourth-placed Castres would appear to be clear favourites to get the better of relegation-threatened Biarritz, especially considering their victory in the Basque country in Round Three.
But BO seem to have finally found the form to match their status as one of the giants of French rugby, as illustrated by dominant wins over Toulon and the Ospreys.
The Basques' away win over Agen lifted them out of the relegation zone and gave their morale a giant boost while last week's five-try Heineken Cup blitz was a welcome departure from the form that left them with the worst attacking stats in France.
Castres's form has been a bit shaky lately, having won just once in their last seven Top 14 matches although they do have a solid home record, that features just a single loss in seven games. Biarritz will however fancy their chances having been successful on four of their last eight visits to Stade Pierre Antoine.
Castres have been bolstered by the return or prop Luc Ducalcon, who has not been included in France's team to face Italy.
Biarritz will be without the injured Charles Gimenez, and possibly hooker Romain Terrain and centre Damian Traille, who both will undergo late fitness tests this week.
Previous result: Castres won 23-18 in Biarritz
Prediction: Biarritz could struggle if they do not pick their French internationals. Castres by five points
Kick-off: 14.15 (13.15 GMT)
Referee: Pascal Gauzere
---
RC Toulon v Aviron Bayonnais
Stade Felix Mayol, Toulon
Toulon Presedent Mourad Boudjellal has dominated the headlines this week as he continues his self-declared 'revolution' against the French rugby establishment.
While at odds with LNR President Pierre-Yves Revol, the RCT boss was happy to share a drink with him after Boudjellal's two-hour long disciplinary hearing on Wednesday.
Back on the field and Toulon will expect to beat a Bayonne side that has moved from one crisis to the next over the last few months. Saturday's game will be new coach Didier Faugeron's first in charge and he faces a stiff challenge against a Toulon side that will be captained by Joe Van Niekerk and bolstered by the return of Alexis Palisson from the French national camp.
Indeed, Toulon have struck a rich vein of form in the European Challenge Cup, which they are now the bookies favouirtes to win.
Spirits were lifted somewhat in Bayonne last weekend by a 90-point drubbing of Rovigo, but times are desperate off the back of a five-match winless streak in domestic competition.
Previous result: 12-12 draw in Bayonne
Prediction: Recent form makes the hosts overwhelming favourites. Toulon to win by twelve points
Kick-off: 14.15 (13.15 GMT)
Referee: Sébastien Cloute
---
Lyon Olympique v SU Agen
Stade Matmut, Lyon
Pre-season forecasters would have circled this fixture as a potential relegation showdown but Agen have defied the odds to comfortably sit mid-table.
Lyon will nevertheless see this as a a massive opportunity to climb out of the relegation zone as their nearest rivals (Biarritz and Bayonne) are both on the road this weekend.
The hosts will be looking for just their fourth Top 14 victory this season but a hard-earned draw against Clermont and last weekend's big win over Newcastle suggests they should not be written off just yet.
Agen skipper Adri Badenhorst has announced that he will retire at the end of the season.
Previous result: Agen 24-18 at home
Prediction: The hosts have everything to play for. Lyon to edge it.
Kick-off: 14.15 (13.15 GMT)
Referee: Jérôme Garces
---
Racing Métro 92 v Stade Toulousain
Stade de France, St. Denis (Paris)
Racing are technically the 'hosts' of Saturday's headline fixture by many of Toulouse's star-studded team will feel right at home at the 80 000-seater Stade de France as the heavyweight go clash for the Pierre de Coubertin trophy.
Toulouse boss Guy Novès has promised that 'no more than three' of players in the current French Six Nations squad will feature and none of those expected to start for les Bleus will travel to the capital.
The defending champions will nevertheless be able to line up a formidable side with in-form centre Florian Fritz - who many feel is unlucky not to have been called up for the Six Nations - eager to prove a point.
With Toulouse enjoying a clear lead at the top of the standings, all the pressure will be on Racing, who are in the centre of the battle for play-off qualification.
Racing number eight Sébastien Chabal has said his team has worked hard to fix the errors that cost them dearly in the first half of the season - and in the Heineken Cup - and believes the team are on an upward curve.
The return of Frans Steyn has certainly added an extra dimension to their attack.
Recent clashes with Toulouse in Paris have gone Racing's way with the host winning 43-21 last season and 27-20 before that.
Previous result: Toulouse won 41-36 at home
Prediction: Racing put up a fight in the away leg and should do well against a Toulouse side that has had a lot on their plate recently. Racing by three or four points.
Kick-off: 16.15 (15.15 GMT)
Referee: Cyril Lafon
---
Union Bordeaux-Bègles v ASM Clermont Auvergne
Stade Jacques Chaban-Delmas, Bordeaux
Clermont travel west looking to close the gap on leaders Toulouse but must do so without a handful of internationals and five players who picked up injuries in the Heineken Cup.
Julien Bonnaire will be rested and Lee Byrne is in Poland with Wales. Gerhard Vosloo (hamstring), Julien Bardy (shoulder) and Nathan Hines (elbow) have all been ruled out.
Good news for les Jaunards is the return of Ludovic Radosavljevic and Anthony Floch from injury.
UBB will be looking to build on consecutive wins over Stade Français and Bayonne and cement a spot in mid-table.
Previous result: Clermont won 34-6 at home
Prediction: Clermont are in top form. Clermont by five points
Kick-off: 20.45 (19.45 GMT)
Referee: Franck Maciello