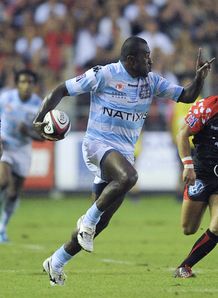 Related links
Also see
Clermont and Perpignan kick off Round Eight on Friday before Toulon travel to the capital to face the out of sorts Racing Métro on Saturday.
Championship leaders Castres will look to extended their winning streak of six games on the road to resurgent Montpellier.
Biarritz and Lyon will do battle at the bottom of the standings while champions Toulouse will expect to win at home to Bordeaux.
Elsewhere, Stade Français face a difficult road trip to Agen.
Fixtures:
Friday, October 21
Perpignan v Clermont
Saturday, October 22
Agen v Stade Français
Biarritz v Lyon
Brive v Bayonne
Montpellier v Castres
Toulouse v Bordeaux-Bègles
Racing Métro v Toulon
Standings:
1 Castres 26
2 Clermont 25
3 Toulouse 23
4 Toulon 20
5 Perpignan 17
6 Racing Métro 16
7 Stade Français 15
8 Agen 15
9 Brive 13
10 Bordeaux 13
11 Montpellier 12
12 Bayonne 11
13 Lyon 10
14 Biarritz 8
Previews:
USA Perpignan v ASM Clermont Auvergne
Stade Aimé Giral, Perpignan
At first glance Perpignan's start to the season hasn't been bad. Four wins and three losses has left them in a cosy fifth place in the standings.
But all is not well in Catalonia. After a home defeat to Agen, USAP were smashed 38-0 in Toulon last week as their inability to create anything dangerous on attack was clear to see. With trip to Bayonne and Toulouse on the horizon, Catalan fans should be worried.
Clermont do not have great record at Stade Aimé Giral having won just twice in 17 visits in the post-war era, but les Jaunards have travelled well this season, winning away to both Toulon and Racing.
Clermont also have several World Cup players back - Nathan Hines, Jamie Cudmore, Davit Zirakashvili , Kini Murimurivalu and Ti'i Paulo while both David Skrela and Thomas Domingo are fit to start.
Perpignan meanwhile are without former Wallaby Ryan Cross, Robins Tchale-Watchou, Gerrie Britz and Jean-Philippe Grandclaude, who are all injured while Grégory Le Corvec is suspended. Tongan prop Kisi Pulu returns to the starting team however.
Perpignan: 15 Jérôme Porical, 14 Adrien Planté, 13 Joffrey Michel, 12 Gavin Hume, 11 Julien Candelon, 10 Nicolas Laharrague, 9 Florian Cazenave, 8 Damien Chouly, 7 Jean-Pierre Perez, 6 Ovidiu Tonita, 5 Rimas Alvarez Kairelis, 4 Olivier Olibeau (captain), 3 Kisi Pulu, 2 Charles Geli, 1 Perry Freshwater.
Replacements: 16 Marius Tincu, 17 Jérôme Schuster, 18 Guillaume Vilaceca, 19 Henry Tuilagi, 20 Bertrand Guiry, 21 David Mélé, 22 Rudi Coetzee, 23 Benoît Bourrust.
Clermont: 15 Jean-Marcellin Buttin, 14 Kini Murimurivalu , 13 Regan King, 12 Wesley Fofana, 11 Noa Nakaitaci, 10 David Skrela, 9 Kevin Senio, 8 Elvis Vermeulen, 7 Julien Bardy, 6 Gerhard Vosloo, 5 Nathan Hines, 4 Jamie Cudmore, 3 Davit Zirakashvili, 2 Benjamin Kayser, 1 Thomas Domingo.
Replacements: 16 Ti'i Paulo, 17 Lionel Faure, 18 Jason White, 19 Alexandre Lapandry, 20 Ludovic Radosavljevic, 21 Brock James, 22 Gavin Williams , 23 Danie Kotze.
Prediction: Forget the record books, on pure form the visitors must be favourites. Clermont by six points
Kick-off: 20.45 (18.45 GMT)
Referee: Franck Maciello
---
SU Agen v Stade Français Paris
Stade Armandie, Agen
Stade Français have yet to win away from home this season after three attempts and have averaged just 8 points per game on the road. In fact the Parisians have not tasted success outside of the capital since December last year.
But there should be plenty of points on offer on Saturday as two attack-minded teams face off. Agen have not won against Stade Français since 2006, losing four of their five games at home to the men in pink.
Yet Agen have had a solid start to the term and will fancy their chances after beating Perpignan last month and coming within inches of upsetting Toulouse.
Prediction: Home advantage should be decisive. Agen by eight points
Kick-off: 14:15 (12.15 GMT)
Referee: Sébastien Cloute
---
Biarritz Olympique v Lyon Olympique
Parc des Sports d'Aguilera, Biarritz
At the start of the season few would have expected Biarritz to be in this position but they hosts a battle of the basement against newcomers Lyon.
Another heavy defeat in Brive last week has left the Basques with just one win from seven starts and desperate to climb out of the relegation zone. The absence of their French internationals has shown just how much BO rely on a handful of key players. The return of their Argentines will help though. Marcelo Bosch starts at fly-half.
One would think that a clash against the newest club in the top division would be the ideal chance for Biarritz to get back on track but ProD2 champions Lyon's win against Stade Français last week is proof that they are no slouches.
Biarritz: Haylett-Petty - Ngwenya, Baby, Burotu, Bolakoro - Bosch, Peyrelongue - Guyot, Gray, Lauret - Carizza, Thion (cap) - Gomez Kodela, Heguy, Buckle.
Replacements: Terrain, Watremez, E. Lund, Molcard, Lesgourgues, Bidabé, Couet-Lannes, Marconnet.
Prediction: Surely Biarritz will find some kind of form at home. Biarritz by six points
Kick-off: 14:15 (12.15 GMT)
Referee: Patrick Pechambert
---
CA Brive Corrèze v Aviron Bayonnais
Stade Amédée Domenech, Brive
Brive host Basque opposition for the second consecutive week as they look to build on an impressive performance last week.
After a disastrous start to the season, Brive's pack stepped up to the plate last weekend and dominated Biarritz, laying the platform for a bonus-point win.
Bayonne have blown hot and cold this season, though mainly cold. After beating Racing, they slumped to defeat at home to Montpellier last week.
Brive welcome back scrum-half Mathieu Bélie and lock Retief Uys back but Petrus Hauman has an injury to his left thigh.
Bayonne are without injury-prone full-back Joe Pietersen.
Prediction: Bayonne have won times in their last six visits to Brive but the hosts look to have found some decent form. Brive by eight points
Kick-off: 14:15 (12.15 GMT)
Referee: Mathieu Raynal
---
Montpellier HR v Castres Olympique
Stade Yves Du Manoir, Montpellier
Without doubt the form team in France at the moment, Castres lead the league off the back of six consecutive wins including a deserved success over the defending champions last week.
Les Tarnais have been far from exciting but their efficient style gets the job done as their goal kickers have been deadly accurate. One off those kickers, South African scrum-half Rory Kockott, who was originally drafted in as injury cover, was handed a deal until the end of the season on Thursday.
Winless in their first five games, Montpellier have bagged two victories in a row - against Toulon and Bayonne - as their internationals trickle back from the World Cup. Eight more internationals from Argentina and Fiji are set to be available this weekend.
The return of Georgian charger Mamuka Gorgodze has been particularly influential as he has added some much needed grunt to les Héraultais' pack, especially at the breakdown.
Prediction: Castres have just one of their last five matches in Montpellier but look to be carrying plenty of momentum. Castres by a whisker
Kick-off: 14:15 (12.15 GMT)
Referee: Jérôme Garces
---
Stade Toulousain v Bordeaux-Bègles
Stade Ernest Wallon, Toulouse
The smallest club in France's top division visit Europe's most successful club in what appears set to be a one-sided encounter.
Bordeaux have done better than most expected so far this season but will be heavily outgunned against the Big Red Machine, who are unbeaten at home and looking to bounce back from last week's disappointment in Castres.
Prediction: No mystery here. Toulouse to win with a bonus point
Kick-off: 14:15 (12.15 GMT)
Referee: Cyril Lafon
---
Racing-Métro 92 v RC Toulon
Stade Yves Du Manoir - Colombes (Paris)
After a strong start to the season, Racing have slipped off the pace after losing four of their last five games.
Worryingly for les Franciliens the last two of those defeats came against lowly opposition - Bayonne and Bordeaux - leaving a question mark next to their pre-season status as title contenders. It's not yet panic stations but a reaction is needed soon or the Racingmen risk losing touch with the leaders.
By contrast, Toulon have a spring in their step after crushing Biarritz last week to climb up to fourth place in the standings.
RCT have however been dealt a heavy blow with the news that skipper Joe Van Niekerk is out for two months. Matt Henjak is back in the side ahead of Fabien Cibray.
Prediction: Racing have won three of the both game between these sides since they returned to the top division and both at Stade Yves Du Manoir. Racing by five points
Kick-off: 16:15 (16.15 GMT)
Referee: Cédric Marchat