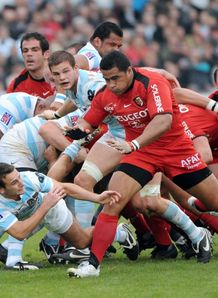 Related links
Also see
Second-placed Racing Metro host leaders Toulouse at the Stade de France while Biarritz face Bayonne in the Basque derby in Spain.
This weekend should see a new record set for attendance in a single round with Paris's 82 000 seater and the Estadio Anoeta in San Sébastien (32 000) set to pack in the numbers.
Nine clubs are still in contention for just six places in the play-offs. With third-placed Castres only six points ahead of ninth-placed Perpignan, the race for European and knock-out phase qualification is red-hot.
With tension running high there have been plenty of punch-ups of late and no less than eight players will be missing this weekend as they serve suspensions for fisticuffs.
Toulon are in danger of missing the boat and must pick up some points when they travel to Castres - who are unbeaten at home - on Friday.
Montpellier could take a giant step towards qualification if they can maintain their perfect record at home to Stade Français, who have little left to play for.
Clermont and Perpignan face potential banana skin fixtures away to relegation-threatened Agen and La Rochelle respectively.
Elsewhere, Brive will expect to climb out of the relegation zone against already-doomed Bourgoin.
Fixtures:
Friday, March 25
Castres v Toulon
Saturday, March 26
Agen v Clermont
La Rochelle v Perpignan
Brive v Bourgoin
Biarritz v Bayonnais
Racing Métro v Toulouse
Sunday, March 26
Montpellier v Stade Français
Standings:
1 Toulouse 69
2 Racing Metro 63
3 Castres 59
4 Clermont 58
5 Biarritz 57
6 Montpellier 57
7 Toulon 55
8 Bayonne 54
9 Perpignan 53
10 Stade Français 48
11 Agen 34
12 La Rochelle 33
13 Brive 32
14 Bourgoin 5
---
Previews:
Castres Olympique v RC Toulon
Stade Pierre Antoine, Castres
Toulon need to pick up points in the Tarn but have not won in Castres in 25 years! Friday's host have been invincible at home this season and after a three straight wins are not short of confidence.
The championship's top points scorers will go head to head as 'Sir' Jonny Wilkinson and takes on Romain 'Robocop' Teulet.
Toulon have also been boosted by the return of a number of players from injury and international duty including England fly-half Jonny Wilkinson, lock Kris Chesney - who has signed a new contract, Pumas loose forward Juan Martin Fernandez Lobbe and former England wing Paul Sackey.
The visitors are expected to line-up a 10-12 combination of Wilkinson and Felipe Contepomi while Gavin Henson has been included in the extended squad and could finally make his debut in rouge et noir.
The hosts will be without fly-half Cameron McIntyre after he was sidelined for three to four weeks with an ankle injury.
Previous result: Toulon won 22-15 at home
Prediction: Castres have won five of the last seven matches against Toulon. Castres by five points
Kick-off: 19:15 (18.15 GMT)
Referee: Christophe Berdos
________________________________________________________________________
SU Agen vASM Clermont Auvergne
Stade Armandie, Agen
Just two points clear of the relegation zone, Agen are under huge pressure as they host the champions. Beaten in the dying second in Paris last time out, les Agenais showed they can mix it with the big boys and will look to extend their three-match winning run on home soil.
Clermont too are under pressure as they seek just their second win on the road this season. (Les Jaunards have not tasted success away from home since beating Bourgoin back in August!)
Clermont will be without emblematic captain Aurélien Rougerie and lock Thibault Privat, who are serving bans their part in the biffo with Toulon a few weeks ago.
The news around Clermontois has centred on their search for a replacement for Napolioni Nalaga with Sitiveni Sivivatu at the top of their wish list.
Previous result: Clermont won 45-19 at home
Prediction: It's about time Clermont came good on the road. Agen are good enough for a bonus pointClermont by three or four points
Kick-off: 14:30 (13.30 GMT)
Referee: Jérôme Garces
________________________________________________________________________
Stade Rochelais Atlantique v USA Perpignan
Stade Marcel Deflandre, La Rochelle
La Rochelle have been popping in and out of the relegation zone all season but their win over title-hopefuls Montpellier was further proof that they won't give up their spot in the top flight without a fight.
Speaking of fights, Perpignan will be missing centre David Marty and loose forward Grégory Le Corvec after the duo were banned for their role in the multiple punch ups with Bayonne a fortnight ago. Maxime Mermoz is still missing with a shoulder injury.
But USAP have plenty of momentum having won their last four games at they march up the standings in a late surge, cutting the gap to the play-offs zone from ten points to four in five rounds.
Previous result: Perpignan won 21-16 at home
Prediction: La Rochelle have won five times at home this season, but USAP should be too strong. Perpignan by five points
Kick-off: 14:30 (13.30 GMT)
Referee: Jean-Luc Rebollal
________________________________________________________________________
CA Brive Corrèze v CS Bourgoin-Jallieu
Stade Amédée Domenech, Brive
The bottom two clubs face off with the hosts the clear favourites. Bourgoin won the home fixture but Brive have shown signs of recovery over the past few weeks and almost caused an upset in Toulouse.
The next fortnight will be crucial to the future of 1997 European champions as relegation rivals La Rochelle are next to visit Stade Amédée Domenech.
Already relegated to the ProD2, Bourgoin have surprised many with the intensity they are still showing, so it won't be an easy ride for the hosts. But in nine visits, CSBJ have never won in Brive.
Previous result: Bourgoin 18-3 at home
Prediction: Brive have no choice but to put on a big performance. Brive by ten points
Kick-off:14:30 (13.30 GMT)
Referee: Hervé Dubes
________________________________________________________________________
Biarritz Olympique v Aviron Bayonnais
Estadio Anoeta, San Sebastian (Spain)
You are always guaranteed of fireworks in the Basque derby. This time the drama will play out on the Spanish side of the Pays Basque with the usual capacity crowd expected.
After avoiding relegation last year thanks to Montauban's administrative and financial troubles, Bayonne have made amends and are still in the hunt for a place in Europe and the play-offs, just three points behind their local rivals.
Biarritz prop Sylvain Marconnet and lock Jérôme Thion are expected to start after being axed from the French national team and will out to show Marc Lièvremont - brother of Bayonne assistant coach Thomas - that they deserve a place in the World Cup squad.
Bayonne wing Yoann Huget will have similar motivation. L'Aviron will however be without the suspended Aretz Iguiniz and Jean-Jo Marmouyet following their boxing exploits in Perpignan.
Pepito Elhorga, Troy Flavell and Julien Puricelli are all injured but scrum-half Cedric Garcia has passed fitness test.
Previous result: Biarritz won 22-19 away
Prediction: Tough one to call but with their Six Nations contignet back, BO should be very strong. Biarritz by a whisker
Kick-off:15:30 (14.30 GMT)
Referee: Mathieu Raynal
________________________________________________________________________
Racing-Métro 92 v Stade Toulousain
Stade de France, Saint-Denis (Paris)
The newly created Pierre-de-Coubertin Trophy will be on the line for the first time in Saturday's top-of-the-table clash.
Racing will host their first game at the Stade de France, but it is unlikely to be their last as coach Pierre Berbizier continues to speak of returning to the 'grand days' of one of France's oldest clubs.
There should be plenty of tries since these sides also hold the top two attacks in the championship.
Toulouse backs Yannick Jauzion and Clément Poitrenaud will have a point to prove after being sent home from the national camp and are set to start. Sébastien Chabal is in the same boat, but will be on the Racing bench.
Whatever the result, Toulouse will retain the championship lead but both sides will be out to secure automatic qualification for the semi-finals.
Racing are unbeaten in the capital this season, but a tougher test they could not ask for as Toulouse will look to build momentum ahead of the Heineken Cup quarter-finals.
Toulouse are struggling in the half-back department with Byron Kelleher, Nicolas Vergallo definitely out and David Skrela and Fred Michalak doubtful.
Previous result: Toulouse won 28-23 at home
Prediction: Another tough on to call. The hosts' somehow always get the result in Paris.Racing by a point or two
Kick-off:16:25 (16.25 GMT)
Referee: Patrick Pechambert
________________________________________________________________________
Montpellier HR v Stade Français Paris
Stade Yves Du Manoir, Montpellier
Stade Français travel to the Mediterranean coast with little hope of making the play-offs but need to maintain momentum ahead of their crucial Challenge Cup quarter-final, as Europe's second tier competition is now their best chance of getting back into the Heineken Cup.
In two weeks Stade will host none other than Montpellier in that potentially season-defining clash, so winning psychological points on Sunday will be important.
At the beginning of the season one would have thought the situation would be the opposite but it is indeed Montpellier who are gunning for a spot in the knock out phases. The hosts recent form on the road has let them down and they no longer have any margin for error.
But Montpol's home record makes for impressive reading: nine wins and a draw. Stade Français on the other hand have won just two of their away games this season (against relegation candidates Agen and Bourgoin).
Stade coach Michael Cheika is sweating over the fitness of internationals Sergio Parisse and Tom Palmer, and could well leave the Italian skipper at home to rest.
Montpellier's kiwi loose forward Alex Tulou will be able to play as his 40-day suspension for punching is under appeal.
Previous result: Stade Français won 30-13 at home
Prediction: Based on the from book, there can be only one winner. Montpellier by ten points
Kick-off:21:00 (20.00 GMT)
Referee: Cyril Lafon