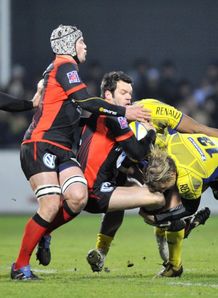 Related links
Also see
Stade Français face Perpignan in a do-or-die battle, Toulon visit Clermont before Bayonne host Toulouse in Spain.
The headlines in France this week have been dominated by the saga unfolding in Bayonne. While the president hangs onto power in a public spat with the main sponsor and Bernard Laporte, their star signing for next season, Byron Kelleher, is in hot water for trying to convince his mates back in New Zealand to join him in the Basque country.
The Pays Basque will continue to be in the spotlight this weekend as the 32,000 seater Estadio Anoeta, home of Spanish soccer club Real Sociedad, has been sold out for Bayonne's game against the European champions.
Although France's Six Nations squad members are available for their clubs, national coach Marc Lièvremont has requested that they be used sparingly. None of England's stars have been released, leaving Stade Français and Toulon without some of their biggest guns.
Elsewhere, Brive have a chance to distance themselves from the relegation zone if they can get the better of play-off candidates Castres.
Fixtures:
Friday, March 4
Clermont v Toulon
Saturday, March 5
Bourgoin v Racing Métro
Biarritz v La Rochelle
Brive v Castres
Stade Français v Perpignan
Bayonne v Toulouse
Montpellier v Agen
Standings:
1 Toulouse 64
2 Racing Metro 57
3 Clermont 53
4 Montpellier 52
5 Castres 51
6 Toulon 49
7 Bayonne 49
8 Biarritz 49
9 Perpignan 45
10 Stade Francais 44
11 Agen 32
12 Brive 31
13 La Rochelle 28
14 Bourgoin 5
________________________________________________________________________
Previews:
ASM Clermont Auvergne v RC Toulon
Parc des Sports Marcel Michelin, Clermont Ferrand
Toulon boss Philippe Saint-André has been doing his maths: If RCT are to make the play-offs, they need to win five more matches. Even if they win all their remaining home games, they will still need one victory on the road.
That's not an easy task since their away games are at Clermont, Castres and Montpellier, who all have unbeaten home records this season.
Before thinking of the future, Toulon's foreign armada will have to come up with goods in Clermont on Friday if they are to make amends for their capitulation to minnows Agen in the last round. Club owner Mourad Boudjellal was raging and threatened to send certain stars to the unemployment offices in they didn't pull up their socks.
After battling past Bayonne last time out, Clermont have been boosted by the return of French internationals Morgan Parra, Julien Pierre, Julien Bonnaire and Thomas Domingo. Former All Black loose forward Sione Lauaki is also fit again.
Other than Jonny Wilkinson, Toulon are missing a host of injured players including Sebastien Bruno, Gavin Henson and Juan Martin Fernandez-Lobbe. Good news for les Varois is the return of skipper Joe van Niekerk and playmaker Felipe Contepomi.
In other news, George Pisi arrived in Clermont this week to start a short-term deal as a medical joker for injured fellow Samoan international Gavin Williams.
Previous result: Toulon won 28-26 at home
Prediction: Toulon have never won in Clermont and it's tough to argue with les Jaunards' record at home. Clermont by three or four points
Kick-off: 20.45 (19.45 GMT)
________________________________________________________________________
CS Bourgoin-Jallieu v Racing-Métro 92
Stade Pierre Rajon, Bourgoin
This smells like another win for second-placed Racing, who play the second of a series of four games on the road. With one foot already in the play-offs, the mission for Pierre Berbizier's men is to make sure they're at home for the knock-out phase. By contrast, relegation is unavoidable for the CSBJ.
Former Bourgoin players Lionel Nallet and Sébastien Chabal have both been rested but Frans Stayen and Juan Martin Hernandez have been named to face a team made up mostly of youngsters.
Good news for Bourgoin is that former French international prop Olivier Milloud is fit to start and will bring some valuable experience to the hosts' starting XV.
Previous result: Racing won 51-20 at home
Prediction: Seems simple enough. Racing by fifteen points
Kick-off: 14.30 (13.30 GMT)
________________________________________________________________________
Biarritz Olympique v Stade Rochelais Atlantique
Parc des Sports d'Aguilera, Biarritz
La Rochelle make the short trip down the Atlantic coast for what is set be clash of two quality packs. The visitors will be out for revenge: Les Maritimes were winning at half-time in the home game before coming apart in the second half. Losing to Racing last time out has dropped them back into the relegation zone, so the pressure is on.
In eighth place, Biarritz are under huge pressure to make the play-offs and with a very difficult end-of-season schedule, a full house of points is desperately needed. They came very close to winning in Toulouse a fortnight ago, but had to settle for a losing bonus point.
The return of BO's internationals should mean the hosts have too much fire power for the smallest club in the top division.
Previous result: Biarritz won 29-23 away
Prediction: Biarritz shouldn't have as much trouble as in the first clash. Biarritz by twelve points
Kick-off: 14.30 (13.30 GMT)
________________________________________________________________________
CA Brive Corrèze v Castres Olympique
Stade Amédée Domenech, Brive
Having found some form and at home to team that have yet to win in the road this season, Brive have a golden opportunity to get themselves out of the relegation quagmire, especially considering that their main rivals, Agen and La Rochelle, are facing title contenders this weekend.
Victory over Stade Français a fortnight ago came as a much-needed boost to morale and the return from international duty of Alexis Palisson will further help Brive's cause.
Castres had a great win at home over Montpellier last time out but haven't had much luck away from home this season. They came close to victory in Toulouse, Bayonne and Paris (against Racing) but if they are to make the play-offs, they need to start turning near-misses into W's in the results column.
But Castres have not won in the Corrèze since 1993 - coach Laurent Labit will remember that day well, as he was one of the main architects of a 19-14 win.
Previous result: Castres won 28-6 at home
Prediction: It's a very difficult match to call. History suggests the home side could edge it. Brive by a whisker
Kick-off:14.30 (13.30 GMT)
________________________________________________________________________
Stade Français Paris v USA Perpignan
Stade Jean Bouin, Paris
Get ready for fireworks. Ten teams are still in the running for the play-offs with these two heavyweights at the back of the pack. The losers in Paris on Saturday are set to fall by the wayside.
Stade Français were poor in their loss to Brive last week while Perpignan snatched their first bonus-point of the season at home to Agen. With four home fixtures on their schedule in the run-in the Catalans have every chance of sneaking into the play-offs through the back door, IF they can win on Saturday.
History points in USAP's direction - Perpignan have won on their last four trips to the capital.
Stade Français will have to make do without England duo Tom Palmer and James Haskell but fly-half Lionel Beauxis will be able to play after having his suspension for a dangerous tackle reduced from twenty to ten days on appeal.
Perpignan are missing back-row Jean-Pierre Perez (shoulder) and hooker Marius Tincu (knee) but France prop Nicolas Mas is in the matchday squad.
Previous result: Perpignan won 22-21 at home
Prediction: Judging by the game in Perpignan earlier this season, it'll be a close one. Perpignan by a point or two
Kick-off:14.30 (13.30 GMT)
________________________________________________________________________
Aviron Bayonnais v Stade Toulousain
Estadio Anoeta, San Sebastien (Spain)
Bayonne have been the centre of media attention this week, but none of it has to do with the on-field stuff. Bernard Laporte has left in a huff, and now even the town's mayor is getting involved. Word on the street is that if president Francis Salagoïty gives up power, the former France coach and politician will return along with the club's main sponsor.
On the field, in front of a capacity crowd on the Spanish side of the Basque border, Bayonne has a massive task in front of them. Winless against Toulouse in their last ten matches (!) l'Aviron need a big performance if they are to avoid losing precious ground in the play-offs race.
The Basques will have a special edition collectors jersey for the occasion, but looking smart won't help much against the champions of Europe and current league leaders, who welcome back their Six Nations internationals.
Guy Novès is likely to give most of his Bleus a rest but David Skrela is set to return from injury. France wing Yoann Huget should start for Bayonne while the return of Clément Baïocco will bolster the 'home' front row.
Previous result: Toulouse won 29-20
Prediction: Who is brave enough to bet against Toulouse these days? Not us. Toulouse by three points
Kick-off:16.25 (15.25 GMT)
________________________________________________________________________
Montpellier HR v SU Agen
Stade Yves Du Manoir, Montpellier
Montpellier have slipped to fourth in the standings but les Héraultais will back themselves to maintain their perfect home record since they drilled Agen earlier this season.
Montpol have been playing some exciting rugby this season and Fabien Galthié has transformed the team into realistic title contenders.
But les Agenais will arrive on the Mediterranean coast with a spring in their step. A shock win over Toulon has put them four points clear of the relegation zone. They'll play free of pressure this weekend.
Montpellier and France fly-half François Trinh-Duc probably won't play as he is still recovering from knock he took to his knee against England.
Previous result: Montpellier won 35-6 away
Prediction: It should be another home win at Stade Yves Du Manoir. Montpellier by twenty points
Kick-off:20.45 (19.45 GMT)