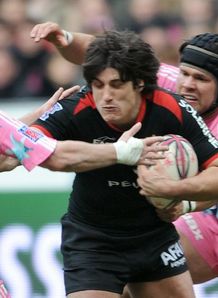 Related links
Also see
The Parisians head South this weekend as Racing-Métro travel to Toulon before Toulouse host French rugby's version of the superclassico against Stade Français.
There are bound to be some interesting team selections this weekend as a mind-boggling schedule of three rounds in nine games means strength in depth will be tested.
After just two rounds, Stade Français and Bayonne are the only unbeaten teams left in the competition but that could well change this weekend as the Parisians have rotated their squad for the gala match in Toulouse while Bayonne must travel to Castres, who beat them twice last season.
The fact that Stade have not chosen their strongest team for one of the biggest matches of the year is not only a shame, but is a clear illustration of the incoherence of the French calendar.
The action kicks off on Friday with a star-studded affair in Toulon where Juan Martin Hernandez is set to make his debut for Racing-Métro.
On Saturday, La Rochelle will be aiming to continue their solid entry into the top flight against fellow relegation candidates Bourgoin while Montpellier face a tricky trip along the Mediterranean coast to Perpignan.
Elsewhere, Clermont host Brive in a sold-out and revamped stadium while Agen play their first home game of the season against crisis-prone Biarritz.
News this week has centred around Biarritz forwards coach Jean-Michel Gonzalez, who was reportedly on the verge of resigning and was absent from training for two days before club President Serge Blanco stepped in and convinced him to stay on.
Fixtures:
Friday, August 27
Toulon v Racing Métro
Saturday, August 28
Agen v Biarritz
La Rochelle v Bourgoin
Perpignan v Montpellier
Clermont v Brive
Castres v Bayonne
Toulouse v Stade Français
Standings:
1 Stade Francais 9
2 Bayonne 9
3 Toulouse 6
4 Brive 5
5 Montpellier 5
6 Toulon 5
7 Clermont 5
8 Castres 5
9 Biarritz 4
10 Perpignan 4
11 La Rochelle 4
12 Racing Metro 4
13 Bourgoin 0
14 Agen 0
________________________________________________________________________
Previews:
Friday, August 27
RC Toulon v Racing-Métro 92
Stade Felix Mayol, Toulon
These two title hopefuls have had opposing fortunes in the opening rounds. While Toulon bounced back from their shock home defeat to Bayonne with victory in Biarritz, Racing failed to follow up their opening day success in Brive when they stumbled in Montpellier.
Toulon's largely anglophone pack was influential in that win over BO and with Paul Sackey also showing signs of settling in well in the backline guided by Jonny Wilkinson, RCT's foreign legion are coming to the fore.
The manner in which Racing-Metro capitulated to Fabien Galthie's Montpellier side suggests that this may be a season too early for them.
"It is not enough to have a good team on paper to win matches," French international Sebastien Chabal told AFP.
"Bayonne beat Toulon because of their desire. Rugby goes like that. But Toulon will still have a big presence in the Top 14.
"In losing to Montpellier, we came back down to earth. We really went there with big hopes of winning. So we must look at things again.
"We have been trying things with one eye on the long term and maybe forgetting about the present."
Chabal, who hands over the captain's armband to regular skipper Lionel Nallet, believes Racing's problem comes down to consistency.
"The problem is that we are not imposing ourselves on the game," he said.
"We are happy to play at the level of the opposition. We have never taken a big spanking but we have lost matches against lesser teams that we ought never to have lost.
"We have not been able to maintain the same standard of play against every team we meet."
Of course the big news this week is Juan Martin Hernandez's debut for Racing. Benjamin Fall starts at full-back, so Hernandez is on the bench.
Toulon captain Joe Van Niekerk will make his first appearance of the season after undergoing surgery to his finger in June starting in an all-star back row with George Smith and Juan Martin Fernandez-Lobbe.
Results last season: Toulon won 27-13 at home; Racing won 28-15 at home
Prediction: We'll back the home side. Toulon by seven points
Kick-off: 19.00 (17.00 GMT)
Referee:
________________________________________________________________________
Saturday, August 28
SU Agen v Biarritz Olympique
Stade Armandie, Agen
After a tough start to the season, Agen play their first home game this weekend but the task is no easier as a wounded Biarritz side roll into town.
Off-field turbulence is not what the Basques needed but with coach Gonzalez staying put, apparently with the support of the players, the worst seems to have been avoided. Changes to the staff, their methods and a possible change in captain are all on the cards however. Turbulent times indeed. With a trip to Perpignan on Wednesday, there is no time for disorder.
Good news for Biarritz is the return of French international Damien Traille, who will play for the youth team on Friday before joining up with the first XV in Agen.
Agen have played some positive rugby in their opening two games but have been found wanting defensively. It's a big jump from the ProD2 to the Top 14.
Prediction: Agen to remain winless. Biarritz to win by four or five points
Kick-off: 16:30 (14:30 GMT)
Referee: Mathieu Raynal
________________________________________________________________________
Stade Rochelais Atlantique v CS Bourgoin-Jallieu
Stade Marcel Deflandre, La Rochelle
This is a massive game for both sides, especially La Rochelle. If the les Maritimes are to avoid the drop the season, home wins against their potential rivals (Bourgoin and Agen) are a nonnegotiable.
Things have started well enough for the newcomers, (a win over Castres and strong performance in Paris) but a long injury list that concerns mainly the pack, is not a good sign ahead of a gruelling week.
For Bourgoin however, it's panic stations (already). Two heavy losses have left CSBJ sans points and looking fragile.
Former Griquas prop Albertus Buckle has been cleared to join Bourgoin as a medical joker and will make his debut in La Rochelle.
Prediction: We like the look of newcomers at home. La Rochelle to edge it
Kick-off: 16:30 (14:30 GMT)
Referee: Eric Gauzins
________________________________________________________________________
USA Perpignan v Montpellier HR
Stade Aimé Giral, Perpignan
Montpellier have never won in Perpignan since the creation of the Top 14 in 2005 but the Héraultais will travel with plenty of confidence after their win against title contenders Racing.
Perpignan would rather forget there trip to Brive last week which was poor follow-up to the opening win against Clermont. Centre Maxime Mermoz admitted to being 'ashamed' of his side and their lack of enthusiasm - surely that will not be the case in front of one of France's most partisan crowds.
Such is the injury crisis in Perpignan that the Catalans have ask for a special dispensation to allow them to pick hooker Guilhem Guirado, even though he is supposed to be rested as one of France's June internationals.
Results last season: Montpellier won 18-12 at home; Perpignan won 29-3 at home
Prediction: USAP just don't lose at home. Perpignan to grind out an eight-point win
Kick-off:16:30 (14:30 GMT)
Referee: Cédric Marchat
________________________________________________________________________
ASM Clermont Auvergne v CA Brive Corrèze
Parc des Sports Marcel Michelin, Clermont Ferrand
In their first home game of the new season, a lot is expected of Les Clermontois in this local derby. A sold-out stadium awaits Brive as the champions of France aim to build some momentum after a less-than-brilliant start to the season.
Brive were very good against Perpignan last week but have a growing injury list that includes important player such as scrum-half Mathieu Bélie, fly-half Fabrice Estebanez, centre Ronnie Cooke and loose forwards Antoine Claassen, Gerhard Vosloo and Alix Popham.
Julien Malzieu and Davit Zirakashvili are set to make their first appearances for Clermont this season. Otherwise the hosts have close to a full squad to choose from.
Results last season: 9-9 draw in Brive; Clermont won 52-10 at home
Prediction: les Jaunards seldom lose at home. Clermont to win by at least ten points
Kick-off:16:30 (14:30 GMT)
Referee: Christophe Berdos
________________________________________________________________________
Castres Olympique v Aviron Bayonnais
Stade Pierre Antoine, Castres
After a shock loss on the opening day, Castres dug deep to grind out a invaluable win against Toulouse last week thanks largely to a pack that was motivated to put in the hard yards.
Bayonne have been the surprise package of the early season. Lucky to still be in the Top14 after last season's misadventure, it's a case of chalk and cheese when comparing this side to last campaign's disorganised rabble.
More god news for Bayonne comes in the form of contract extensions for fly-half Sébastien Fauqué, Kiwi loose forward Dwayne Haare and South African lock Rob Linde.
Castres prop Luc Ducalcon is being rested but Scotland lock Scott Murray should make his debut.
Results last season: Castres won both games: 15-6 away; 26-10 at home
Prediction: It'll be close, but we'll back the hosts. Castres by a whisker
Kick-off:16:30 (14:30 GMT)
Referee: Romain Poite
________________________________________________________________________
Stade Toulousain v Stade Français
Stadium de Toulouse
European champions Toulouse will be hoping to return to winning ways after a surprise defeat at Castres last weekend.
The 36 500-seater Stadium de Toulouse hosts a match that promises fireworks in spite of the fact that the visitors have made wholesale changes to the side that has taken the early championship lead.
A hybrid Parisian side will take the field as forwards Dimitri Szarzewski, Sergio Parisse, Julien Dupuy, Rodrigo Roncero and Tom Palmer are all on the bench along with backs Lionel Beauxis and Mathieu Bastareaud. Lock Pascal Pape and wing Julien Arias are not even making the trip.
James Haskell, Hugo Southwell and Brian Liebenberg are however in the starting XV.
For Toulouse Romain Millo-Chluski, Jean-Baptiste Poux and Grégory Lamboley are obliged to rest since they were part of France's touring squad in June.
Yannick Jauzion is uncertain but Pumas lock Patricio Albacete could be back. Byron Kelleher's isn't ready for a match yet, but he has been cleared for contact in training. Centre Yann David has broken his leg and will be absent for six months.
Full-back Clement Poitrenaud and fly-half David Skrela, however, will both return to the team after being rested last week.
Results last season: 9-9 draw in Toulouse; Toulouse won 29-0 in Paris
Prediction: On paper, Toulouse shouldn't be troubled. Toulouse to win by nine points
Kick-off:20:30 (18.30 GMT)
Referee: Pascal Gauzere