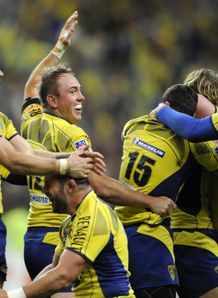 They finally did it! At the eleventh time of asking, Clermont eked out a win in the final of the French championship, beating Perpignan 16-6.
It was not pretty, but that might crop up as a subject of discussion in the Auvergne hundreds of years from now, buried in drunken bowels of conversations about the night Clermont finally won the title. To the travelling masses from the Massif Central, every minute was that of a taut-nerved thriller.
The label of chokers has so often been pinned on the Clermont jerseys, but this time it will go to the unfortunate Jerome Porical, who missed four out of six shots at goal for his team. On Clermont's side, Morgan Parra was, after one early range-finding miss, unflappable.
He landed his killer blow 19 minutes from the end, a minute after Porical had missed his fourth, taking Clermont ten points clear in a fractured second half from which Perpignan deserved more.
Tensions were in the air right from the opening skirmish, which resulted in a dust-up and a typically blunt dressing down from referee Christophe Berdos. Both sides missed penalties in the opening five minutes, before Parra finally scored the first points of the game in the tenth minute.
Five minutes later, Clermont scored the opening and only try. It was Napolioni Nalaga who scored, after a quick line-out and break by James, who gave to Nalaga who forced his way over the line between the legs of Nicolas Durand, playing his last game for the Catalans.
Parra converted, then landed his second penalty after Porical had made it 10-6 with two of his own.
Porical missed his second of the night just before half-time of a match in which Clermont had enjoyed 65 per cent of the possession but had not really translated enough of it into ploints or opportunities.
The second half was more even as Perpignan dug out a hefty kitchen sink to throw at the Clermont defence, but again Porical let his side down, missing a tough kick just after the break and a sitter near the hour mark.
When Parra slotted his third to take his side two scores ahead, Catalan heads dropped visibly. Anthony Floch landed a drop goal to extend the lead to 13 and take the Clermont fans old and new to a level of emotion and euphoria they had all looked forward to ten times before and all watched on as other groups of fans enjoyed. This time it was theirs.
The scorers:
For Perpignan:
Pens: Porical 2
For Clermont:
Try: Nalaga
Con: Parra
Pens: Parra 3
Drop goal: Floch
USA Perpignan :15 Jerome Porical, 14 Adrien Planté , 13 David Marty, 12 Maxime Mermoz, 11 Christophe Manas, 10 Nicholas Laharrague/ Gavine Hume, 9 Nicolas Durand, 8 Jean-Pierre Pérez, 7 Henry Tuilagi, 6 Ovidiu Tonita, 5 Robins Tchale-Watchou, 4 Olivier Olibeau, 3 Nicolas Mas (c), 2 Guilhem Guirado, 1 Perry Freshwater.
Replacements: 16 Marius Tincu, 17 Jerome Schuster, 18 Guillaume Vilaceca, 19 Gregory Le Corvec, 20 David Mélé, 21 Nicholas Laharrague/ Philip Burger, 22 Jean-Philippe Grandclaude, 23 Kisi Pulu.
ASM Clermont Auvergne: 15 Anthony Floch, 14 Napolioni Nalaga, 13 Aurélien Rougerie (cap), 12 Joubert, 11Julien Malzieu , 10 Brock James, 9 Morgan Parra, 8 Elvis Vermeulen, 7 Alexandre Lapandry, 6 Julien Bonnaire , 5 Thibault Privat, 4 Jamie Cudmore, 3 Martin Scelzo, 2 Mario Ledesma, 1 Thomas Domingo.
Replacements: 16 Benoît Cabello, 17 Davit Zirakashvili, 18 Julien Pierre, 19 Alexandre Audebert, 20 Kevin Senio, 21 Tasesa Lavea, 22 Gonzalo Canale, 23 Vincent Debaty.
Referee: Christophe Berdos