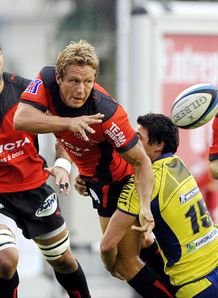 The new kids on the block take on France's perennial bridesmaids in the second Top 14 semi-final at Stade Geoffroy-Guichard in St. Etienne on Saturday.
We don't need to remind you of how - in skipper Joe van Niekerk's words - Toulon "have taken the French championship by storm" this season.
Van Niekerk made that statement (plus a couple of expletives) in a fiery post-victory speech to his team-mates after beating Toulouse at the Vélodrome earlier this year.
And he couldn't have been more right. Unlike their collection of misfires last season, Toulon's big guns have been firing in all directions this term. Let's not forget that, like Toulouse, the Varois are also still on track for a Euro-French double because you'd have to back them to beat Cardiff when they return to the Vélodrome.
But back to the match at hand.
In case you needed a reminder on how many finals Clermont have lost, it's ten. Not that it matters here, we're talking about the semi-finals so expect Aurélien Rougerie and co. to be at their breath-taking best, especially on attack.
Don't worry about Brock James choking at the kicking-tee, Morgan Parra has taken over those responsibilities and doesn't look like missing much.
Saturday's star-studded line-ups offer the prospect of a number of enthralling battles. Both sides have backlines overflowing with world-class players but in finals it's up front where the difference is often made.
Opposing back rows Van Niekerk and Julien Bonnaire are a case in point. Will Van Niekerk's ball-carrying strength outweigh Bonnaire's ability in the air? Almost every other position throws up a similarly close battle so one would suggest that victory lies in the hands of the team that can better handle the pressure of the occasion.
It goes without saying that Clermont have plenty of big-match experience, but the same cannot be said of all of Toulon's squad.
While the likes of Van Niekerk, Tana Umaga or Jonny Wilkinson are no strangers to the big stage, there are many more who have no such experience. This will also be the first occasion that Toulon's relatively new squad face this kind of match as a group, so it will be interesting to see how they cope.
The presence of former Clermont players Pierre Mignoni and Laurent Emmanueli in the RCT camp will certainly be a big advantage when it comes to preparing for matchday as well as reading the opposition in the heat of battle.
Although St. Etienne in a neutral venue in theory, in reality it's as close to a home match for Clermont as possible without actually playing at Marcel Michelin. RCT forwards coach Aubin Hueber says it's like "playing at the Vélodrome" for Toulon, who will be ruing missing out of top spot in the standings (on points difference) and thus missing out on having first choice of their semi-final venue.
Toulon full-back Clément Marienval has been forced to withdraw with a knee injury, but that is their only significant omission so Wilkinson will start at ten inside Mafileo Kefu and Sonny Bill Williams with Felipe Contepomi on the bench.
For Clermont, Brock James and Elvis Vermeulen passed late fitness tests but Mario Ledesma is still not sure of starting. Aurélien Rougerie will start at outside centre after playing at full-back last week.
Players to watch:
For Toulon: In a team packed with stars, one man will be particularly useful to Toulon's cause. After starting his career in Toulon, Pierre Mignoni spent six season in Clermont. The 28-cap international scrum-half knows les Juanards, their structures and calls better than anyone - the prefect man to marshal the Toulon attack and defence.
For Clermont: Mignoni's replacement in yellow is currently the star in French rugby. Morgan Parra was simply phenomenal in the play-off against Racing and although he has tried to shy away from the limelight, everyone now knows who runs the show in Clermont.
Head-to-head: Beyond the scrum-halves lies another intriguing tussles as Jonny Wilkinson takes on Brock James. James was long been considered the best number ten in France but that mantle has now been taken over by the newly-arrived Englishman. Who will control the game?
The teams:
RC Toulon:15 Luke Rooney, 14 Gabiriele Lovobalavu, 13 Mafileo Kefu, 12 Sonny Bill Williams, 11 Tana Umaga, 10 Jonny Wilkinson, 9 Pierre Mignoni, 8 Juan-Martin Fernadez Lobbe, 7 Joe El Abd, 6 Joe Van Niekerk (cap), 5 Jocelino Suta, 4 Kristian Chesney, 3 Davit Kubriashvili, 2 Sébastien Bruno, 1 Laurent Emmanuelli.
Replacements: 16 Philip Fitzgerald, 17 Saimone Taumeopeau, 18 Fotunuupule Auelua, 19 Ross Skeate, 20 Olivier Missoup, 21 Felipe Contepomi, 22 Fabien Cibray, 23 Tonga Lea'aetoa.
Clermont Auvergne:15 Anthony Floch, 14 Napolioni Nalaga, 13 Aurélien Rougerie (cap), 12 Joubert, 11Julien Malzieu , 10 Brock James, 9 Morgan Parra, 8 Elvis Vermeulen, 7 Alexandre Lapandry, 6 Julien Bonnaire , 5 Thibault Privat, 4 Jamie Cudmore, 3 Martin Scelzo/ Davit Zirakashvili, 2 Mario Ledesma/ Benoît Cabello, 1 Thomas Domingo.
Replacements: 16 Benoît Cabello/ Willie Wepener, 17 Martin Scelzo/ Davit Zirakashvili, 18 Julien Pierre, 19 Alexandre Audebert, 20 Kevin Senio, 21 Tasesa Lavea, 22 Gonzalo Canale, 23 Lionel Faure.
Previous results: RCT won 26-21in Toulon; Clermont won 39-3 in Clermont Ferrand
Prediction: Toulon may have finished higher in the regular season standings, but Clermont's big win at home suggest they have more firepower. Clermont to win by seven points
Kick-off: 16:30 (15.30 GMT)
Referee: Jérôme Garces
By Ross Hastie