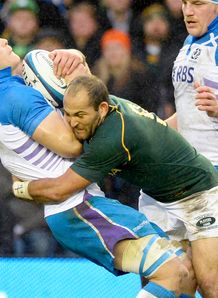 Scottish breakdown specialist Richie Gray has been added to the Springbok backroom staff ahead of next year's World Cup.
Boks head coach Heyneke Meyer praised Gray's impact as a breakdown consultant for the South African squad last year, as they repeatedly impressed around the contact area during the Rugby Championship and November Tests.
Now the 44-year-old has made his consultancy role permanent, having worked with the Scottish Rugby Union for some 12 years.
"It's a big job, looking at the breakdown area. It fits into pretty much the whole plan in attack and defence," Gray told BBC Scotland.
"Heyneke Meyer targeted that area to work on last year.
"The South Africans are huge men with a phenomenal mauling, line-out and scrummaging game but maybe one area they were slightly weaker in was, breakdown-wise, body height, coping at that level.
"There is always huge pressure to do well. You've got 50 million people and rugby is an absolute way of life. Sometimes, even when you win it's not good enough - you've got to win well.
"It's been a real challenge but they have such great athletes right across the board."