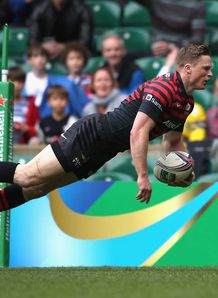 Related links
Also see
Exeter winger Jack Nowell will miss England's June tour of New Zealand due to knee surgery, opening the door for a recall for Chris Ashton.
20-year-old Nowell, who started all five of England's matches during the Six Nations, is set to be out for between six to eight weeks.
Nowell suffered a bad shoulder injury in Exeter's loss to Leicester last month, just eight days after scoring his first Test try against Italy, and has not played since.
With that injurying requiring time to heal Exeter have decided to use the lay-off time to sort out his longstanding knee issue.
"Jack has a pretty bad shoulder injury," Exeter head coach Rob Baxter told the Daily Mail.
"It was going to be hit and miss to get him back in time for the end of the season and he also needs an operation on a long-term knee issue. This is an important chance to get on top of that situation.
"He is booked in for an operation as soon as the season finishes and we've let him go away for a break until then because he won't have a break for six to eight weeks after the surgery, when he'll be in rehab.
"The shoulder injury, because it's nerve-based, will just take time to heal naturally. Ironically, it has been his best season yet but he has only played six Premiership games. He's had the knee injury for pretty much all of his senior career."
Nowell's absence could present an opportunity for Saracens winger Ashton, who has set a new try-scoring record in the Heineken Cup this season.
The 27-year-old's last appearance came in England's defeat to New Zealand at Twickenham in November and he was left out of the Six Nations squad.
But his Saracens team-mate Kelly Brown believes Ashton is an asset England cannot afford to ignore.
"I just think he brings something a little bit different," said Brown.
"I know there's been talk of England wanting something a bit different on the wing but I think he's the only player in England who plays the way he does. He follows things: he gets on the end of breaks, and in terms of stopping him, that's very difficult. I'm sure if he keeps going he can get back into that England mix.
"It's up to the coaches of course but I think he's an incredible player," added Brown.
"When he first signed for Saracens I thought he was a good player, I thought 'he gets on the end of things'.
"But I didn't actually understand the work he does off the ball until I'd played with him.
"He pops up all over the place, his work-rate's incredible; he's unbelievably fit, his defence is pretty good and improving all the time.
"He chases kicks all day and he scores tries, so it's brilliant to be playing in the same side as him.
"And I'm sure if he keeps it up he'll be back in the England side soon.
"From my experience he's a very, very good player, and I wasn't aware quite how good he is until I'd played with him."