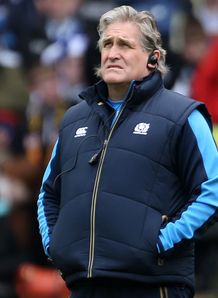 SRU chief executive Mark Dodson has clarified the 'promotion' of Scott Johnson to director of rugby for Scotland after a dire Six Nations.
Johnson's move was pre-determined before the 2014 campaign while Vern Cotter concluded his work with Top 14 club Clermont.
Cotter will now coach the Scottish national side going forward, but there has been a backlash towards why Johnson has been given another position within Scottish rugby.
"We need clarity on this issue. We appointed Scott to be director of rugby first. Then we got Vern Cotter as head coach. We knew we would have to wait for Vern as he wanted to finish the job he started at Clermont," said Dodson.
"We asked Scott to stand in during the interim. He had no ambition to do that but we asked him. He was happy to do it on one proviso, and that was to bring on Scottish players in larger numbers.
"In the period he's been in charge, he has capped 17 new players, so we have a squad that is richer and deeper than ever.
"But as for the backlash about Scott being promoted, I'd say that he was never 'promoted' - he already had the job.
"Now he's going back to that job to develop the plans we have got to develop the next generation of new talent, which is his specialism.
"We always knew there would be a problem with the 14-month period but Scott did what we asked him to do and he delivered what we asked him to deliver."