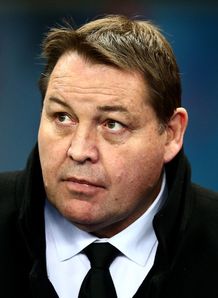 New Zealand head coach Steve Hansen believes England full-back Mike Brown is currently the best in the world in his position.
Brown impressed during the Six Nations as England came a narrow second to champions Ireland, with four wins from their five matches.
England will embark on a three-Test tour of New Zealand in June, with Hansen ready to receive a confident group who were the last team to defeat the All Blacks in December 2012.
"You would expect anyone who is coming over to come all guns blazing," Hansen told Fairfax News.
"I thought they were very, very good [in the Six Nations]. There is a different feel to England and there has been for quite some time, they have been quite impressive.
"I think their full-back is one of the best, if not the best full-back in the world at the moment."
Hansen also paid credit to Stuart Lancaster, who has been hailed as the reason behind England's resurgence since taking over from Martin Johnson in 2012.
"He's [Lancaster] definitely changed the culture," added Hansen.
"He's started to talk about the England shirt and playing for England, rather than individuals. There's a lot more humbleness about what the English than what you would probably get normally.
"They are trying to play a game that involves everybody and they are very physical."