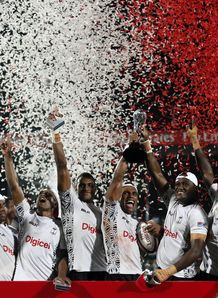 Related links
Also see
The International Rugby Board has confirmed that it is to suspend all direct financial support to the Fiji Rugby Union (FRU) with immediate effect until the Union adopts key financial reporting, administration and governance reforms.
Earlier this week, it was revealed that the FRU are yet to pay new Sevens head coach Ben Ryan any of his salary since he took over the national side this season.
"The decision was reluctantly made after the Union failed to implement recommended measures to provide assurances to the IRB that it was appropriately moving to address significant concerns regarding the administration and governance of the Union," read a statement from the IRB.
"The recommendations arose from an IRB Major Union Review which was conducted after the Union requested emergency financial assistance in May last year.
"The IRB and the FORU Regional Association have formally expressed concerns that the financial position of the Union is unsustainable and could create instability and impact on the management of the Union and key IRB-funded development and high performance programmes.
"The IRB committed GB£1.1million (FJ$3.3million) in direct funding to the FRU in 2013 and significant additional financial assistance to participate in international tournaments in 2013.
"The IRB remains committed to Rugby in Fiji and the performance of the men's and women's national Fifteens and Sevens teams and will work closely with FORU and the FRU to ensure that all administration and governance reforms are delivered and funding is reinstated."