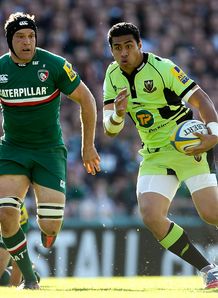 The decision to suspend Samoa centre George Pisi for six weeks for a tip-tackle against Ireland has been upheld on appeal.
The player had been cited for an alleged dangerous tackle under law 10.4(e) in the match between Ireland and Samoa on November 9.
At a hearing three days later before an independent Disciplinary Committee, the terms of the citing complaint had been amended to a tip-tackle under law 10.4(n), and, following George Pisi's guilty plea to that amended complaint, the committee had upheld the citing and suspended the player for a period of six weeks.
The independent committee, chaired by Professor Lorne Crerar listened to representations on behalf of the player and the Disciplinary Officer.
Crerar dismissed the appeal and upheld the original decision of the committee. Pisi is therefore free to play again on December 23.
The suspension means the Samoan midfielder will miss two key Heineken Cup pool matches for his club side Northampton Saints against Leinster.