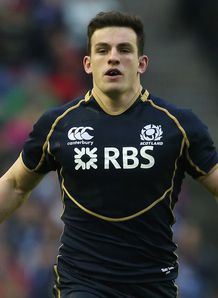 Scotland centre Matt Scott does not want a repeat of last season's shock loss to Tonga against Japan this weekend.
The Pacific Islanders stunned Scotland in Aberdeen in a 21-15 loss that signaled the end of Andy Robinson's time in charge of the national side.
Scotland kick-off their November schedule by welcoming Japan to Murrayfield before taking South Africa and Australia, but Scott insists there has been no looking beyond this weekend's fixture.
The Brave Blossoms arrive in Scotland after losing 54-6 to the All Blacks in Tokyo last weekend.
"We saw last year at Pittodrie what can happen if you don't take these games seriously enough. We don't want that happening to us again," said Scott.
"We recovered pretty quickly from that Tonga defeat and did well in the Six Nations. But the feeling of that day is still ingrained in everybody's memory.
"I had only won six caps before that game and I was pretty new to things then. It wasn't a pleasant experience at all and it's not something I want to be repeating.
"Johnno has told us to play each Test like it's our last. Japan are a quality side and we can't take them lightly. Okay, they are an emerging nation but they have beaten the likes of Fiji and the Unites States, good teams.
"They will be targeting us for a win and will be a very dangerous side. We will put our strongest side out, but we will still need to give it our all.
"The performance is the thing we should be focusing on mainly, because if we play well I think we will win.
"There's no doubt about that and I'm confident we are good enough to take care of Japan.
"But it's no good losing the first game when we have to massive sides in South Africa and Australia to come next, so the result does matter too."