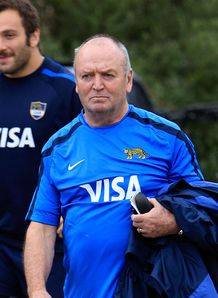 Former World Cup-winning coach Graham Henry has left his advisory role with Argentina after the departure of Santiago Phelan.
Henry assisted the Pumas during the 2012 and 2013 Rugby Championships after leaving his job as head coach of New Zealand in 2011 following World Cup success.
Now also working with the Blues in Super Rugby, Henry believes his time in Test rugby is over after working before New Zealand with Wales and the British and Irish Lions - ruling out a return.
"You never know. I would say it's very, very unlikely, but if I say I'll never get involved in international rugby again, and something happens and I do . . . but it's very unlikely," Henry told the Sunday Star Times.
Henry also conceded that he was dissatisfied with being unable to give his full commitment to Argentina, due to his work with the Blues, and that a decision had to be made.
"I didn't feel right. It's either I do it 100% or I don't do it at all," added Henry.
"Doing it 70% is not the right thing to do. I'd never done that before. You can't do it in half measures. It didn't work for me."