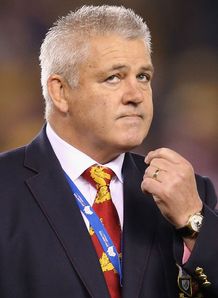 The Welsh Rugby Union will hold a meeting with Wales coach Warren Gatland next week over extending his contract.
Gatland, who guided Wales to successive Six Nations titles and who also led the British and Irish Lions to a series victory in Australia, is contracted to Wales until the end of the 2015 World Cup in England.
But Welsh Rugby Union CEO Roger Lewis is keen to start planning for Wales' future.
"We've started talking," he told the BBC
"We have to start that planning for the national team now.
"We had a great night on the Sunday after that third Lions Test in Sydney... we're going away [this week] just the two of us, take some time off-site, and then we'll have a better idea of what's happening post-2015."
Gatland has been in charge of Wales since the end of 2007, when he was appointed following Wales' poor World Cup showing in France under Gareth Jenkins.
Since then, the New Zealander has guided Wales to three Six Nations titles and and Lewis believes he can help Wales develop their next generation of players.
"At this level of the game, it's not one year, two years or three years [of planning]," he said.
"We run a five-year cycle and that's the attitude we've brought into the game here in Wales, and that's the conversation we'll have.
"It's got to be what's right for Warren and his life, and his family. The other bits, in terms of the career, slot in."
"[The discussions with Gatland] will be over a beer. I'll ask him, 'How do you feel? What do you think about the future?' And that will take as long as it takes."