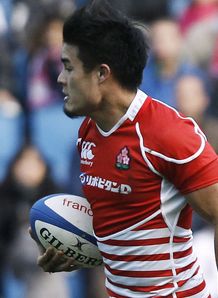 Japan captain Toshiaki Hirose will return to the starting XV for his side's second Test against Wales after recovering from injury.
Hirose, who plays on the right wing, comes straight into the starting lineup to lead the side as Japan look to overcome their narrow 22-18 first Test against Wales in Osaka.
Speaking before the second Test in Tokyo, Eddie Jones stated that his side let a key opportunity slip last weekend but were well prepared for the rematch in the Japanese capital.
"We are really looking forward to the game," said Jones.
"We were in a position to win the last game but we weren't quite good enough, but the great thing about playing a two test series is we have another chance this week.
"Previous games between Japan and Wales have seen 50-point plus wins for Wales but we are satisfied with a close loss.
"Generally it's the team that starts well, is more physical, has the right attitude at the start of the game that comes out on top, so we have been preparing all week for that.
"Obviously Wales have changed their team a little bit, making changes in their back row and we are expecting a performance from Wales that was similar to their second half and we are really looking forward to it.
"It's important for us not to take a step backwards and to continue pushing Japanese rugby forward."
Japan: 15 Ayumu Goromaru, 14 Toshiaki Hirose (capt), 13 Male Sau, 12 Craig Wing, 11 Kenki Fukuoka, 10 Harumichi Tatekawa, 9 Fumiaki Tanaka, 8 Takashi Kikutani, 7 Michael Broadhurst, 6 Hendrik Tui, 5 Shoji Ito, 4 Hitoshi Ono, 3 Hiroshi Yamashita, 2 Shota Horie, 1 Masataka Mikami.
Replacements: 16 Takeshi Kizu, 17 Yusuke Nagae, 18 Kensuke Hatakeyama, 19 Shinya Makabe, 20 Justin Ives, 21 Atsushi Hiwasa, 22 Yu Tamura, 23 Yoshikazu Fujita
Date: Saturday, June 15
Venue: Chichibu Memorial Stadium, Tokyo
Kick-off: 14.00 (local)
Referee: Greg Garner (England)
Assistant referees: Lourens van der Merwe (South Africa), tba (Japan)
Assessor: Tappe Henning (South Africa)