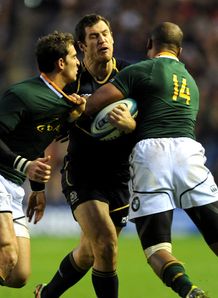 Related links
Teams
Scotland head coach Andy Robinson admitted his team had been "bullied" in the first half by South Africa in Saturday's defeat at Murrayfield.
The Springboks dominated the first 50 minutes and cruised to a 21-3 lead before the hosts took the game by the scruff of the neck.
But their second-half fightback proved too little, too late as they failed to unlock the South African defence.
Robinson rued the penalties his side conceded in the first half and added that South Africa's first try from a rolling maul made him "very, very angry".
"A lot to learn in improving defence and also in attack, particularly physically. I felt they bullied us a little in the first half," said Robinson.
"The last 30 minutes was very pleasing but what happened in the first 50 minutes was hugely frustrating,"
"We faced a different threat today. Last week we faced speed and this week we were facing physicality - they are probably the toughest team to play against. It showed the gulf and where we are.
"We can't afford to give penalties away in the way we did. We need to improve our discipline because we gave them field positions and the ability to build their maul in the first half.
"In the second half we didn't give penalties away so our defence was on the front foot. In the first half we allowed SA to get momentum by tackling high.
"After half-time we tackled low, which stopped their momentum and we played inside their half."
"Next week against Tonga we need a performance there to put together the lessons they've learned from the first two games.
"There's a lot for us to look at. The disappointing thing from our side is we allowed a side to get a lead again and that's something you can't afford to do.
"I thought South Africa defended superbly well. If they hadn't defended as well as they had, it could have been a different story."
"They didn't have to do a lot to win the game because we gave them field position from penalties."
"Henry (Pyrgos) brought some real energy to the game and it was set-piece pay that worked really well," Robinson said.
"It was great to see him go under the posts. There was real energy there to the way we played in the second half.
"But you have to take your chances and when we were battering away at South Africa's line, the quality of defence we faced in terms of the physicality was probably a step-up from last week, but also we ran in ones which allowed them to make the hit.
"We have to have that clarity to be able to run in twos and threes when you are up against such a physical defence."