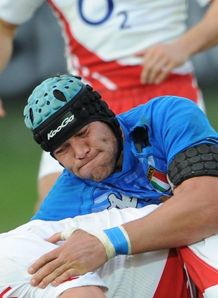 Related links
Teams
Also see
There was once an advertisement featuring Italian national soccer goalkeeper Gianluigi Buffon, where a woman clapped her hands to her head and screamed: 'Disastro!'
When the news broke late on Thursday that Sergio Parisse would be out for the next six months, it was difficult not to imagine the entire Italian rugby fraternity performing the same melodramatic gesture.
There are players important to teams all over the world, your Dan Carters, Matt Giteaus, Jonny Wilkinsons, Martyn Williamses, Sebastian Chabals, but none matter so much to one team as Sergio. He is so often Italy's inspiration, so often the man who pulls something out of thin air to keep his side in a match, the man in the team who creates the new shades rather than just another painter by numbers.
Shortly before the publication of the preview, that news broke. The preview had to be re-written. For, sad as it is to say, you somehow feel that Italy will not be the same without their figurehead.
What a great shame. Italy are on the back of thirteen straight defeats, but like the Wallabies, you also have to remind yourself who they have played. The last five matches alone - Australia twice, New Zealand twice and South Africa - is a heck of a yardstick to judge and condemn a team still in infancy when it comes to rubbing shoulders with the seniors.
The fixture with Samoa should have been a test of what the Azzurri had learned over the past sixteen months under Nick Mallett, how much they had absorbed from the lessons being dished out. How much they had narrowed the gap, whether they had pulled away from the rest.
Now it is going to be a test of resilience, coping with an angry Samoan team running at them from all angles while attempting to plug an unpluggable gap. It should have been a game approached with confidence, now there is a degree of trepidation.
Through it all, Mallett has generally been happy with the progress of Italy and with good reason. The scoreline against New Zealand was the same as England's - give or take a pop at goal and lest we forget, Italy should have had a penalty try - and while there was a poor start against the Boks, the team rallied well to fight their way back into it.
I doubt I am in a minority when i say that I would just like to see them win and reap a reward for a hell of a year.
But then I'd not be in the minority wishing that on Samoa either. The Samoans don't get together to tour much and the senior rugby world is often too money-grabbing to pay Apia a visit in June, so it's good to see when it happens.
The Samoans gave a fine account of themselves against Wales with only three days' preparation, a less fine account of themselves against France, but the French do not skip homework these days like previous generations would have. Samoa were found out there. A reaction from the coaches is required for progress to be made.
So we'll see. Italy are likely to rely on forward power against a suspect Samoan scrum and in a game where the Italians might feel they can really dominate that area rather than just compete. Samoa may defend better, but the attack will still be the same. Big hits, loosening the game up, and then direct destructive running, something Italy have traditionally found hardest to cope with. On damp ground, Italy may just have the nudge out of those two, but only if there is a positive reaction to the loss of their most revered soldier.
Ones to watch:
For Italy: Josh Sole was called up to replace Parisse, but has not been shy of a game-defining display or two in the past himself. With Parisse gone, here is someone with plenty of experience who could step up most ably.
For Samoa: Eliota Fuimaono-Sapolu fills the fly-half position which has been a touch directionless during this tour. On the fringes of the Bath team, Fuimaono-Sapolu must perform if Samoa are to open the game up enough to win.
Head to head: The front row clash is always critical when Italy play anybody, but this time they are expected to dominate and be the platform upon which victory is built. Samoa have to step up, an area not their forte at all.
Recent results:
2005 Samoa won 17-9 in L'Aquila
2000 Samoa won 42-23 in Apia
1995 Samoa won 42-18 in East London (RWC)

Prediction: Italy to get their cherished prize. But by no more than three points.
The teams:
Italy: 15 Luke McLean, 14 Kaine Robertson, 13 Gonzalo Canale, 12 Gonzalo Garcia, 11 Mirco Bergamasco, 10 Craig Gower, 9 Tito Tebaldi, 8 Alessandro Zanni, 7 Mauro Bergamasco, 6 Josh Sole, 5 Quintin Geldenhuys, 4 Carlo Antonio Del Fava, 3 Martin Castrogiovanni, 2 Leonardo Ghiraldini (c), 1 Salvatore Perugini.
Replacements: 16 Fabio Ongaro, 17 Ignacio Rouyet, 18 Antonio Pavanelli, 19 Simone Favaro, 20 Simon Piccone, 21 Riccardo Bocchino, 22 Alberto Sgarbi.
Samoa: 15 Titi Esau, 14 Henry Fa'fili, 13 Gavin Williams, 12 Seilala Mapasua, 11 David Lemi, 10 Eliota Fuimaono-Sapolu, 9 Junior Polu, 8 Henry Tuilagi, 7 Ofisa Treviranus, 6 George Stowers (c), 5 Kane Thompson, 4 Filipo Levi, 3 Justin Va'a, 2 Mahonri Schwalger, 1 Census Johnson.
Replacements: 16 Andrew Williams, 17 Sakaria Taulafo, 18 Jonny Fa'amatuainu, 19 Misioka Tomoteo, 20 Semiperive Semeane, 21 Uale Mai, 22 Lucky Munipola.
Date: Saturday, November 28
Venue: Stadio Del Duca, Ascoli Piceno
Kick-off: 15.00 (14.00 GMT)
Expected weather: Showers, light breeze. 14°C
Referee: Christophe Berdos (France)
Assistant referees: James Jones (Wales), Pascal Gauzere (France)
TMO: Jim Yuille (Scotland)

By Richard Anderson